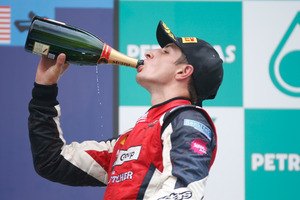 Mitch Evans had only 12 laps to go and was closing in on the race leader when he was penalised.
Kiwi Mitch Evans was cruelly denied victory in the GP2 feature race at Silverstone after a technical failure caused him to exceed the speed limit during his compulsory pit stop.
Evans had stormed through from eighth on the grid to lead the race before his pit stop. In spite of his dramas in the pits, the Auckland teenager was soon closing fast on race leader Sam Bird.
With 12 laps to go in the 29-lap race, Evans was just five seconds behind Bird and closing at a second each lap. However, the speed sensors in his car had failed during the pit stop which meant his 60km/h speed limiter did not work.
Evans was ordered back into the pits on lap 18 for a 10-second stop-and-go penalty which dropped him down to 19th at the finish.
"When I came back out from the pit stop Bird was only 4.5 seconds down the road and I was catching him fast. Our car was very quick today and without the problem we could have won," Evans said.
His confidence was confirmed by the lap times - Evans set the fastest lap of the race, 2.6 seconds faster than the best lap of eventual race winner Bird. However, the bonus points for fastest lap require the driver to finish in the top 10 so Evans was denied for a second time at the British Grand Prix round.
"The failure of the speed sensors was a freaky thing to happen - I'm sure we could have won if we hadn't had the problem," said Evans.
Although he was slower off the line on his harder tyres and lost a couple of places into Copse Corner, he picked clever lines during a frantic scramble for places on the first lap.
Evans had charged up to sixth place at the end of the first lap and was showing impressive speed. By lap eight he was up to third place as the cars that had started on the softer tyres peeled off for their pit stops. When Stephane Richelmi, who had also started on the harder compound, pitted on lap 13, Evans took over the lead.
The Kiwi led the race for the next two laps and was clearly showing he had the speed to win. Unfortunately, his challenge ended at the white line that should have triggered the speed limiter entering the pit road. The sensors correctly activated the limiter when he came back into the pits to serve his penalty, and worked again when he stopped for a third time.
The team wisely decided to switch him to a set of the soft compound tyres so they could preserve the little-used second set of hard compound tyres for the Sprint race. He set fastest lap on the soft tyres on lap 22.
With no points from the feature race, Evans drops from seventh to ninth in the GP2 points standings. APNZ
- APNZ