There are six weeks until the All Blacks play again. Gregor Paul details 10 things coach Steve Hansen would no doubt like to see and not like to see between now and August 17.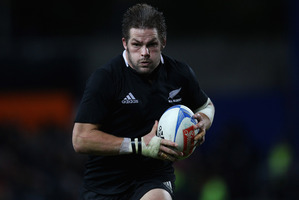 1. Richie revved up and ready
We know his track record - that Richie McCaw has missed as much as six weeks of action through injury and then returned to immediately star in tests.
There are different rules for this man. He's earned the right to do things his way and that has brewed a certain expectation - that nothing is impossible for McCaw.
"We don't have to worry too much about his mental capabilities," said All Blacks coach Steve Hansen after the 3-0 series win against France.
"He proved that during the World Cup. And time and time again, he has shown that he doesn't take too long to jumpback into the saddle."
But McCaw's present situation is different. In the past, he's been match fit before incurring injuries. What he's attempting to do now is go from seven months off, to playing a test after a few club games and possibly some Super Rugby action. Even for him, that is an extreme challenge and carries risks.
There's no doubt that physically and mentally, he'll be in great condition. He's spent the past 12 weeks working on a tailored conditioning programme. But being fit and being match-fit are not the same thing. Even McCaw needs meaningful game time at Super Rugby level to hone his instincts, refine his timing and condition his brain to the cues and rhythms of top flight rugby.
His captaincy ethos is built on him being the best player - leading by example. Hansen has to be careful. There are just six weeks until the Rugby Championship and McCaw has to be genuinely worthy of his place in the team to play Australia.
2. Walking, talking and locking
Lock has become a position of strength for the All Blacks but they need to start the Rugby Championship with Sam Whitelock, Luke Romano and Brodie Retallick all fit and with something left in the tank. With Dominic Bird injured and Ali Williams retired, there is no one, really, to back up these three. Jeremy Thrush is not the answer; the All Blacks were prepared to play the final French test without a specialist lock on the bench, which spoke volumes about how they view the Hurricanes man.
The plan during the Rugby Championship will be to rotate Whitelock, Romano and Retallick but all three are going to be used extensively in the next six weeks, asked to carry big workloads through the critical stages of Super Rugby. Hansen will be nervously watching on. He needs these three to come through unscathed and ideally not asked to play 80 minutes every week.

3. Spare the blindside horse
The All Black coaches are determined they won't interfere with Super Rugby and offer any advice or edicts on what they would like certain teams to do in regard to how they use key All Blacks in the next six weeks. Which means they can only hope that the Chiefs strike the right balance with Liam Messam; that they don't flog him extensively in their quest to defend their title. The 29-year-old established, without being particularly impressive, that he's head and shoulders the best test No6 in the country rightnow. Victor Vito again didn't nail his chance in the third test and Steve Luatua is a work in progress-exciting and full of potential but a long way off being ready to front the Boks.
Messam has already endured a big year and the All Blacks noticed that after a huge effort in the third June test against Ireland last year, Messam flatlined through the Rugby Championship before slowly declining in the last five tests. They felt fatigue was a factor and yet, looking ahead, they can see they are going to run that same risk with Messam, as he's their only choice at blindside.
4. Crash course in collisions

Collectively, it would be a welcome sight for everyone to see New Zealand's Super Rugby teams improve their work at the collision and breakdown during the finals series.
France were able to dominate that area throughout the three tests. They had a better feel for the referee but they were also technically better, tactically more sound and physically more imposing. The All Blacks struggled to target and shift bodies; they struggled to commit the right numbers and even when they got everything right, the French weren't blown off the ball as they should have been.
General improvement across all teams would be helpful but more specifically, it would be more reassuring to see individual All Blacks get that bit lower, more dynamic and more ferocious heading into contact.
5. Back to square one
Despite the fact they have proven time and again that Super Rugby form doesn't translate into test form, it would still be preferable if the likes of Ma'a Nonu, Aaron Smith, Andrew Hore, Israel Dagg and Julian Savea build on the performances they delivered in June when they return to their respective franchises.
People talk about some individuals being confidence players-well, really, everyone is a confidence player. It's simple enough; confidence builds when players play well and feel good about their performances. The All Blacks coaches, while they are good at it, would rather not run rehabilitation programmes.
Savea and Dagg especially have the ability to destroy opposition defences if they are at their best, confident to back themselves and trust their instincts.
6. Young contenders
It's not vital yet but it would be handy if the young hookers who have caught the eye in the first installment of Super Rugby continue to catch the eye. The problem at hooker is not going away. The All Blacks need at least one more younger player to emerge.
They will likely continue to work with Dane Coles with one of either Keven Mealamu or Andrew Hore through the Rugby Championship. Coles may continue to start with the veterans swapping each week for the bench role, with maybe the old guard starting against the Boks.
But for how long can this pattern be sustained? Ideally, someone such as Liam Coltman or Rhys Marshall will keep developing through the remainder of Super Rugby and ITM Cup to come under consideration for the end of year tour.
7. Return of Faumuina
Blues prop Charlie Faumuina was spotted training with the All Blacks in New Plymouth. The big tighthead was forced out of Super Rugby early due to a calf injury. But he's not far from a playing return and the All Blacks will welcome him back as soon as he convinces he's match fit. Faumuina showed ample promise last year after making his debut in the Rugby Championship. His scrummaging is that bit more technically efficient than Ben Afeaki's and he's an equally good ball player.
The return of Faumuina will help the All Blacks feel more comfortable about their strength in depth at tighthead. Owen Franks played all but four minutes of the series against France. When Faumuina returns, the coaches will most likely feel they have the option to lessen Franks' workload, should they wish.
8. Centre of excellence
Another in the not essential but would be handy category is the prospect of seeing Nonu and Ben Smith used in the Highlanders' midfield. Hansen wanted to keep Smith on the wing for the French series, believing it would be better to let the Highlander truly find his feet in the test arena. But given Smith's likely shift to centre later this year when Conrad Smith is on sabbatical, the next few weeks represent an opportunity for that possible All Black combination to get some bonus time together.
9. Reduce the air miles
The one thing no one wants to happen in the next six weeks is for any New Zealand side to be dragged over to South Africa for a play-off game.That is a long haul trip with no positives. The Chiefs have the best chance to avoid that fate by winning their final two games and topping the overall table. That way, they will be guaranteed a home semi and a home final, should they progress.
For the Crusaders and Blues, their fate is in the lap of the gods but they will just have to hope they don't suffer the way the Sharks did last year, having to fly to Australia for the preliminary play-off, back to South Africa for the semi and then to New Zealand for the final.
10. Everyone loves a winner
International coaches make a lot of grumpy noises about overworked players and the need for endless rest and preparation time. But balanced with that is the knowledge that a Kiwi winner of Super Rugby would help build confidence and reinforce the impression of New Zealand being world leaders.
Having three teams in the finals would also be beneficial; the more exposure players can have, especially the young brigade at the Blues, to high intensity knockout football, the better.