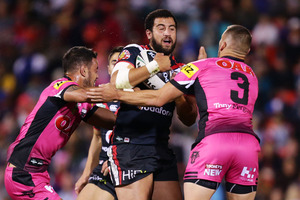 For a man who plays in the toughest area of the field, Warriors prop Ben Matulino has been incredibly durable.
Matulino is one of only four men (along with Shaun Johnson, Thomas Leuluai and Feleti Mateo) to play in every game this year.
The 24-year-old missed only two matches last season and figured in all games in 2011, playing a pivotal role in the memorable run to the grand final.
He just keeps going; bashing into defenders and smashing attackers on the charge.
While league has evolved through the decades, the role of the men with eight and 10 on their backs hasn't. They are there to ground out the yards and build momentum, as well as stopping the human behemoths heading their way. According to Warriors trainer Carl Jennings, the G forces from some of the collisions in the front row are equivalent to cars colliding at 20km/h.
"I'm not sure - some of it is luck," says Matulino when asked about his durability. "I think my running style helps. Look at someone like Sam [Rapira], who runs straight at one person as hard as he can. My style is a bit different; I try to go between players and turn my body so my contact is a lot different and [maybe] that's why my body has held up more."
"He's really good on his feet and gets between people really well," says Warriors coach Matt Elliott. "He has got great spatial awareness and knows how to use his body."
Apart from his technique, it might also be about toughness. Matulino is too modest to expand on such a topic but some players just have an ability to play through pain.
"Ben is very strong minded and strong willed," says team-mate Nathan Friend. "He seems to be able to overcome niggling injuries and just get back out there."
As well as the quantity, Matulino also brings quality every week. He has an innate ability to hit the defensive line and propel forward, where others get stopped dead in their tracks. Across this season, he averages 112 running metres per game along with more than 21 tackles. With the team lifting over the past four weeks, he has contributed 136, 123, 159 and 147 metres respectively.
Still only 24 but with 122 games behind him, it feels like Matulino is still coming into his prime - a fearsome proposition for opposing teams.
"I'm just glad I am passing the ball to him rather than trying to stop him," says Friend. "He's pretty quiet - he's the silent assassin of our club - but he probably doesn't realise his potential."
"Ben has to get his head around being international class and one of the best props in the world," says Elliott. "Maybe he is actually too humble. That quality doesn't need to change but he should recognise privately - and I don't think I am peeing in his pocket - that he could be one of the world's best props."
It must be remembered that Matulino also lost one of his biggest weapons this season, with the banning of the shoulder charge.
He was previously one of the best exponents of the technique - watching his YouTube hits on opponents such as Sam Thaiday and Jamal Idris still makes you wince - and wishes it was available sometimes.
"I wasn't too fussed [when it was first banned] but now I am starting to miss it," says Matulino. "There have been a few times when the opportunity presents itself and you think 'if only'. I'm sure some other players might be missing it too."
Matulino is happy to start on the bench, pointing out it is the same formula that was used during 2011's successful run. He averages 44 minutes a match, which the coaching staff hope could lift in time to 55-60 minutes a match. Somewhere near that time today will considerably boost the Warriors' chance of extending their present streak, with their second match against the Broncos in five weeks. The margin today will be much closer than the 56-18 hiding in round 12. As Elliott pointed out last week, Brisbane's Origin quartet will be on a high coming into this game and will want to continue that momentum.
"We are prepared for a real battle," says Matulino. "They are a very good side ... and their whole forward pack has good agility. They all have a step on them.
"We have to be confident and just need to focus on continuing our form.
"Getting four wins on the trot feels like the season is just starting. It's been a weird season."