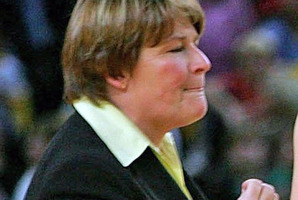 Australian Julie Fitzgerald has emerged as the surprise favourite to take the head coach job at the Magic.
The former Swifts coach is shortlisted and the Herald on Sunday understands she is the most likely contender to take the role, which has become vacant since the resignation of incumbent Noeline Taurua last month.
If appointed, she would be the first Australian head coach of a local ANZ Championship team (Natalie Avellino was co-coach of the Steel, though she had spent almost a decade in her 'adopted' country in other regional coaching roles).
Any appointment of Fitzgerald would be subject to approval by Netball New Zealand, since she is not a New Zealander, nor does she meet the residency criteria.
Magic board member and New Zealand selector Margaret Forsyth is also believed to have applied for the job, though she seems more likely to gain an assistant coach role.
Though the appointment of Fitzgerald would create shockwaves, on the surface it would appear a sensible decision.
Fitzgerald has genuine pedigree and huge experience. She coached the Swifts to the inaugural ANZ Championship title in 2008 and took them to the play-offs in 2010 and 2011. Before that she was in charge at the Sydney franchise for 11 years of the Commonwealth Bank Cup (The Australian equivalent of the National Bank Cup), winning four national titles and playing a large role in the development of world class players like Liz Ellis and Catherine Cox. She has recently been head coach at the Australian Institute of Sport and also an assistant with the Australian Diamonds under Lisa Alexander.
However, if the Sydneysider is appointed, it will raise some questions about the pathways available to young local coaches, especially in light of the recent appointment of Australian Vicki Wilson as Silver Ferns assistant coach.
"The process is quite clear," says Netball NZ CEO Raelene Castle. "If a franchise wants to appoint a coach who is not a New Zealander, it needs to be approved by the national body and we would examine any such decision very closely."
Castle says Netball NZ is "very conscious" of keeping pathways open but also acknowledges the risk of appointing a relatively inexperienced local candidate.
"We would want to avoid the 'Ken Rutherford factor'," says Castle, referring to the New Zealand cricketer who was thrown in as an 18-year-old to face the West Indies in 1985, with traumatic results. "We are also aware it is risky to appoint someone who is not ready; the ANZ Championship is a ruthless competition."
If an Australian were to coach a New Zealand franchise, she would hope it would be as a short-term fix.
"We would hope that such a person would be a mentor and be able to bring local coaches through," says Castle. "In time, she would be able to groom local coaches. That would be the long-term view."