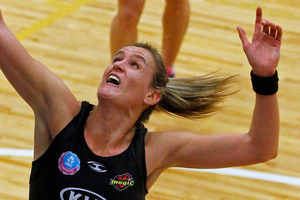 While most are focused on the Magic making history, Casey Kopua is concerned they could be history.
The Magic broke the celebrated "Champions curse" last week, becoming the first team in the ANZ Championship to reach the semifinals the year after taking the crown.
They are now two games from another grand final and the possibility of historic back-to-back championships.
However it also feels like the end of an era; coach Noeline Taurua is moving on, some high-profile players may follow her and other changes are sweeping across the franchise. It's hard to take for one of the originals like Kopua, with the team since she was a teenager.
"(In terms of next year) I don't know what will happen," Kopua said. "That is probably something that is keeping us tight and together - the 14 of us might not be together ever again. It could be the last time that we get to do this together and for some of us that have been here for a long time that is pretty hard.
"With these girls it's like having a whole bunch of sisters. And with (Noeline) going and our management. It's upsetting for me and I don't like to think about (next year) yet."
It could be a distraction but it probably won't be. The Magic have been here before, with dramas and controversies over the years. It tends to make them stronger, to pull together, against all odds.
"We work hard, we stick together and we put our hearts on the line, that's the Magic way," says Kopua. "It's a different culture down here but it works for us."
Just like last season - though perhaps not quite as dramatically - the Magic have had moments of real fear this year. They were beaten by the Fever then beaten up by the Thunderbirds. They were toppled by the Steel and had the Pulse snapping at their heels. Lineups were being shuffled, confidence was wavering, seeds of doubt were being planted.
But everything turned in round 10, against today's opponents, on the Gold Coast. Then sitting outside of the top four, the Magic came up with crucial victory in double overtime.
"That was a turning point for us," says Kopua. "It was a very intense, tight match; we lost the lead and they put the pressure on but we were excited going into extra time. We wanted it really badly
"That game was the first time we stuck with the same seven," says Taurua. "It gave us a huge confidence boost and things were starting to click."
After that win the Magic won five consecutive games, catapulting them into third position. Kopua reports no issues with her knees or ankles, after being plagued by injuries in recent seasons. She is managed carefully and does extra strength work but has felt "fantastic" all season.
Off the court Kopua has gone the extra mile this year, hosting three of the team most weeks. Jamie Lee-Price, Nadia Loveday and Erena Mikaere all stay at Kopua's house after Hamilton training sessions, with the Silver Ferns captain whipping up an after training dinner and breakfast the next day.
"She is like a camp mother," says Taurua. "She is so family oriented and genuinely cares for people. And I guess it is her being a leader."
Today's game was meant to be in Brisbane, before first the Firebirds blew a seven-goal third quarter lead to lose their last regular season game then the Magic came up with their improbable 28-goal victory over the hapless Mystics last Monday, slipping the Queenslanders to fourth on the ladder and moving the semifinal across the Tasman.
"It's nice to be at home," says Taurua. "Especially in the big games - I believe that it can make a difference, the crowd lifts you and they can even influence how the umpires think."
Despite dropping three of their last five, the Firebirds remain a formidable outfit. Romelda Aiken and Natalie Medhurst are a highly experienced, intelligent attacking duo while their physical defenders, in the words of Taurua, will do "anything" to get the ball.