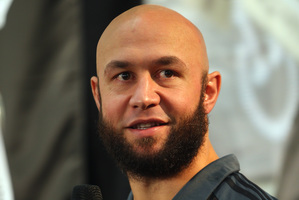 As the Rugby World Cup sevens heads into a gripping last day with little between the top eight teams, New Zealand coach Sir Gordon Tietjens has re-iterated his plea for players to specialise in the format ahead of the 2016 Olympics.
The New Zealand Rugby Union has indicated this will be the case with further details needing to be nutted out as to how that impacts on Super and All Blacks rugby. Sevens-specific contracts are expected in the coming months.
In all likelihood only a handful of current All Blacks and Super Rugby players (rangy loose forwards and pacy backs) need apply, given sevens' emphasis on skills like support play, fitness, speed and counter-attacking.
Tietjens has a short-list in his head.
"I would immediately look at putting Charles Piutau, Frank Halai and Ardie Savea in sevens jerseys [for the Olympic campaign]. Cory Jane is another who has been in my systems for years."
After four consecutive Commonwealth Games titles, dangerous assumptions have tended to waft in the public realm that Tietjens' squad merely has to turn up to Rio de Janeiro and the gold medal is theirs. Investment in sevens programmes by Olympic heavyweights like Russia, the United States and China suggests this hypothesis is risky.
"We can only succeed if given the right amount of time to make a transition. That means a minimum of two to three world series tournaments. All players need to be conditioned for sevens. Players can't just come in and out of Super Rugby.
"Things are changing with Olympic player availability. Hopefully that will continue leading to the Commonwealth Games and Rio. We still need a lot more depth; we can't be self-reliant because the likes of DJ Forbes (30), Tomasi Cama (32) and Lote Raikabula (29) are not always going to be there. Having said that, guys heading into their 30s can play a full role, as long as injuries hold off."
Tietjens says talk of a wishlist, including players from other codes like Sonny Bill Williams and Shaun Johnson, is all well and good but the same principles apply.
"Those guys would be great but, to put it in perspective, they would have to change early and commit themselves to get picked - just like anyone else.
"Changing codes is not a problem. An example is Sam Dickson who was playing Aussie Rules until last year. He's been a great acquisition who recovers a lot of loose ball, especially in the air."
If the men need a precedent for code-crackers they need not look further than home.
Women's coach Sean Horan says it has been a priority for them, driven by last year's NZRU Go4Gold recruiting programme. New Zealand won the inaugural women's world series this season.
"We've grabbed netball, touch and league players over the years because we want high level athletes to give Rio a crack," Horan says.
Kayla McAlister and Portia Woodman were recruited from netball backgrounds while Tyla Nathan-Wong excelled at touch.
• Andrew Alderson travelled to Moscow courtesy of New Zealand Rugby