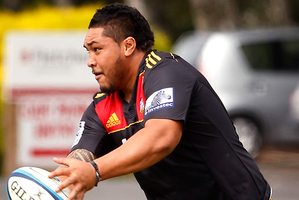 A big factor in why the Chiefs looked a vastly improved side in the last 30 minutes of their victory over the Hurricanes in Hamilton can be found in one significant second-half substitution.
Until then the visitors were clinging on and a boilover was not out of the question. But then on ran Ben Tameifuna, a man as big as a fridge and harder to shift. The Hurricanes quickly found themselves frozen out.
The tighthead prop, all 140kg of him, made his presence felt after replacing Ben Afeaki - himself in the form of his life and with a recent All Blacks debut to prove it - in a scrum five metres from the Hurricanes' line. Ben Franks and Co had managed to win their own feed after wheeling the scrum - a debatable decision by referee Garratt Williamson.
The Chiefs' reaction, with Tameifuna in the vanguard and helped by fellow newcomer, hooker Mahonri Schwalger, was a wheeling of their own, one which left viewers and participants alike in no doubt as to who would dominate the set piece from then on.
Tameifuna later scored the Chiefs' bonus point try when charging through the middle of a breakdown, a testament to his immense size, strength and self belief.
Chiefs coach Dave Rennie, unhappy for 50 minutes of a rusty performance by his team on Friday night at Waikato Stadium which nevertheless produced a 34-22 win, admitted Tameifuna was a "hell of a weapon" to bring into a match.
Rennie revealed the 21-year-old Tameifuna had been dedicating himself to his craft over the past four weeks in a regime which included working out twice a day.
"He was pretty keen to go to Tonga for a week in that first part [of the break]," Rennie said of Tameifuna. "It was discouraged and to his credit he decided to stay and work hard. A lot of the boys went away from Hamilton but he hung around and so the trainers got double sessions with him every day. He's worked really hard, he's worked hard all year but he's had a couple of setbacks with injury which have slowed things down.
"He's an absolute rock at scrum time and he's getting around the field. He makes an impact with the ball and he's got the ability to put a few big shots in defensively. We're really happy with Tama, he's made some big shifts."
Tameifuna's greatest attribute is that he simply can't be moved in the scrum. Rennie said he was a rock but he must seem more like a cliff face to opponents. Ben Franks, an All Black who had been playing well, had no answer to the bigger man's power.
Tameifuna also has surprising pace and agility, qualities which help make sense of the fact that he used to be a halfback.
Brought into the All Blacks' environment last year but without playing a test, Tameifuna will still be on Steve Hansen's radar.
His match-up against Wyatt Crockett and Owen Franks next week in Christchurch will be a blockbuster. The Crusaders would do well to prepare for a big freeze.