Transtasman champions prepare for their first play-off match - and their coach's last game at home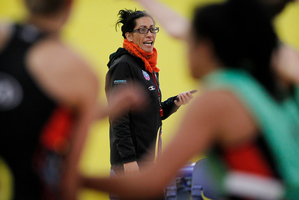 It's a comical juxtaposition: on court one of the Te Awamutu Events Centre New Zealand's most successful netball franchise, the Waikato-Bay of Plenty Magic are a picture of steely focus as they go about their preparations for the transtasman league play-offs.
On court two, a community zumba class, whose co-ordination levels appear only marginally better than that of a new-born foal, twist and writhe enthusiastically like drunk grannies in a nightclub.
Seemingly oblivious to the spectacle on the court next door, Magic coach Noeline Taurua patrols the sideline, drowning out J-Lo and Beyonce as she barks out instructions to Eyes, Kay and Lauz.
"Where are your lines and angles? Think about where the ball is coming from," she yells.
Just a small slip of a woman - it is hard to imagine she used to mix it up in the goal circle - Taurua is dwarfed by the likes of Irene van Dyk and Casey Kopua, but she commands their attention.
The team is about to commence their final play-offs campaign under Taurua, with the championship winning coach stepping down from the Magic at the end of the season after 11 years at the franchise.
The Queensland Firebirds are the first team standing in the way of back-to-back crowns for the Magic, but regardless of whether they win or lose in Hamilton tomorrow night, it will be the team's last home game.
Taurua is refusing to let her impending departure become the focus of their finals campaign.
At an official presentation recognising her service to the franchise following the Magic's final-round match, Taurua baulked when the microphone was thrust in her direction. She eventually relented, but the only words she had for the crowd that had hung around for the presentation was an embarrassed "Thank you, thanks".
Some took her reticence to speak as a slight, a further sign of tension between coach and franchise management. But Taurua genuinely doesn't want to be in the limelight - for her, it is all about her team.
"This team is about all of us and everyone plays a role - I'm not bigger than anybody else," she says simply.
For a while there Taurua couldn't escape the spotlight.
Her coaching practices and decision-making came under huge scrutiny in the early years of the competition, with fans baffled by the Magic's failure to deliver a title despite their enviable array of talent. Here was a shadow Silver Ferns line-up - remember they had Maria Tutaia and Joline Henry in the first two seasons - getting beaten by double figures in the play-offs by Australian franchise teams.
The knives were out for Taurua, with her training environment, selection decisions and tactical nous questioned.
Many people - this writer included - thought her philosophies were, quite frankly, a little bit off the wall.
In 2010 after a three-game losing streak - including an 18-goal loss to the Swifts - had the Magic on the verge of missing out on the play-offs, the Herald ran a piece entitled The Madness of the Magic. In it the Magic's failings were laid bare, with the lack of a true high performance environment due to a "fly in, fly out" policy for the players cited as the key reason for their struggles. Perhaps unfairly, the article was accompanied by a picture of Taurua dressed in a bumblebee suit - something she'd done as a preseason gimmick to motivate her players.
The article prompted Taurua's partner, Ed Goldsmith, to fire off a string of angry emails, in which he, in not so delicate language, told of the hurt and stress caused to his whanau by this writer's criticism.
Brutal introduction
For Taurua it was a brutal introduction to the professional era, in which greater media exposure meant great scrutiny.
That could have been where the story ended for her, the mother-of-five could have easily thrown in the towel at that point, but that would have meant giving up on her team. So she convinced her family after their 2010 grand final loss to the Thunderbirds to let her go back and have another crack.
She told the Daily Post at the time: "It puts a lot of pressure on Ed, and the kids go through different stages, they sometimes want their mother and I'm not there ... if they weren't happy I wouldn't have done it."
Now it is the Magic players facing the reality of not having Taurua around and you need only look at van Dyk's stricken face during last week's on-court presentation to know how much she will be missed.
Magic assistant coach Tanya Dearns, whom Taurua has publicly endorsed as her replacement, said it wasn't until she got the opportunity to work alongside her good mate this year that she realised the incredible culture she has developed in the team.
"You can always look from the outside and make comment about how things are going but when you see what goes on and how much work she puts in, it really is an eye-opener. This team is her blood, everything she does is for her team."
Exacting standards
And so here she is on a bitterly cold morning in the Waikato, pacing the sidelines swamped in layers of clothing demanding perfection from her side as they chase a second consecutive title.
Although they were long regarded as the underachievers of the competition, Taurua's side has gone on to amass the most successful record in the league. They're the only team to have made the play-offs every year, advancing to the grand final on three occasions, and last year finally clinching a title for New Zealand.
There was no eureka moment for Taurua. The formula to beating the Australian sides didn't suddenly come to her one day - it was the result of her constant search to learn and be better.
Last year, she overhauled the Magic's approach to training, setting new exacting standards for her side after four seasons of coming up just short. If they wanted the title they were going to have to work harder than they ever had before.
"It probably boiled down to being more professional and knowing what that meant," she says.
"Now we have no excuses, we do everything we possibly can and make sure we don't leave anything to chance."
It's a philosophy she drills into her players, and Dearns will tell you Taurua gets her "point across pretty damn clearly" but at the end of the day, they all still adore and respect her.
She's the queen bee that does not want to be set apart from the worker bees. A bee that, eventually, got the honey.
Magic's rivals for crown
Adelaide Thunderbirds (placing after regular season: 1st):
The Thunderbirds dropped just one game this season - a 14-goal loss to the Vixens in round 2 - on their way to the minor premiership.
But despite finishing six points clear of the next best team, there are still question marks over the Adelaide side.
Their inability to really put any team away this season suggests they are prone to lapses within games - even the Northern Mystics made them look average at times.
The flipside is they know how to win and get themselves out of a hole.
Key players: Natalie von Bertouch, Carla Borrego, Renae Hallinan.
Melbourne Vixens (2nd):
Having recruited well in the off-season, last year's beaten finalists started out the year as the title favourites.
But they have looked shaky in the lead-up to the finals, collecting two losses over the final three rounds.
Still, their last performance - a 30-goal final-round win over the West Coast Fever - was impressive.
If the Vixens can produce that sort of form in the playoffs they will be tough to beat. The only question mark is over their young shooting pairing of Karyn Howarth and Tegan Caldwell.
Key players: Geva Mentor, Madison Brown, Tegan Caldwell.
Queensland Firebirds (4th):
The Firebirds, who take on the Magic in tomorrow's sudden-death playoff, are considered the danger team of the final four.
With Romelda Aiken, one of the league's most prolific scorers, anchoring their attack end, when the Firebirds get on a roll they are difficult to stop.
But a couple of their midcourt rookies haven't experienced league playoffs, so expect pressure on the likes of Kim Ravillion and Gabi Simpson.
Key players: Laura Geitz, Romelda Aiken, Natalie Medhurst.
Semifinals
ANZ Championship - semifinals
Major semifinal
Adelaide Thunderbirds v Melbourne Vixens
Tomorrow, 2.15pm, Adelaide
Minor semifinal
Waikato-Bay of Plenty Magic v Queensland Firebirds
Tomorrow, 7.20pm, Hamilton