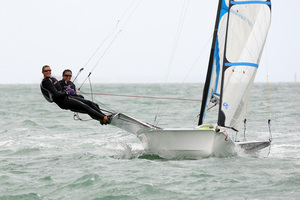 Molly Meech (left) and Alex Maloney are ranked No 1. Photo / Chris Gorman
Molly Meech and Alex Maloney are in more of a hurry than they used to be.
Maloney sailed around the South Pacific with her parents for three years and Meech lived on a boat as a child for 10 years, seven of them spent circumnavigating the globe.
These days they have their eyes on only one destination, Rio de Janiero. They are the world's No1-ranked combination in the women's 49erFX, a new class that will debut at the 2016 Olympics.
The 49erFX is similar to the 49er, which Peter Burling and Blair Tuke sailed to silver at last year's London Olympics. The women's version is the same size, although with a smaller rig.
Maloney, 21, and Meech, 20, have been faster than most over the past few months. They won the first two regattas to feature the class late last year, the Sail Melbourne World Cup regatta and Sail Sydney, and carried on that form in this year's Sailing World Cup series with silver in Palma and gold in Hyeres.
They also had an advantage because they tested and trialled the design last year alongside the FX's New Zealand designers, Mackay Boats.
They may have a jump on the rest of the fleet who are all coming to grips with the new class, but the next two regattas will give them a better idea of how they are tracking. They will line up in the European championships in Aarhus, Denmark, from July 2 and will also compete in September's 49erFX world championships in Marseille, France.
"We have trained quite hard over the last six months and the Europeans haven't been able to do that because of the winter over there," Meech said. "I wouldn't say we have a massive jump on the rest of the fleet. Everyone is learning at different speeds.
"The world championships will be the first time everyone will be there. The European championships will also see some teams we haven't come up against. It's just building, I think."
Maloney and Meech are able to learn from some of the best. Yachting New Zealand has invested time and money in the pair and they seem certain starters in Rio, but they also get to learn from Burling and Tuke, who will be competing at the same venues at the same time.
Maloney and Meech's actual older brothers are also aspiring Olympians and are in direct competition in the Laser class. Andy Maloney was third at last year's Laser world championships and is ranked seventh in the world, one place ahead of Sam Meech, who won the recent Sail for Gold regatta in Weymouth, and the pair seem destined to battle it out for one spot in Rio.
Alex Maloney and Molly Meech will have a much clearer run to the next Olympics and are confident of success in 2016.
"A medal is a realistic goal," Maloney said. "I don't think we would be doing it or getting the support to do it if it wasn't."
"It's exciting," Meech added. "It's the goal, the light at the end of the tunnel, but there are a lot of steps between now and then."
This is one thing they don't want to rush.
APNZ
- APNZ