Captain's guiding hand vital in getting team's season back on track for shot at playoffs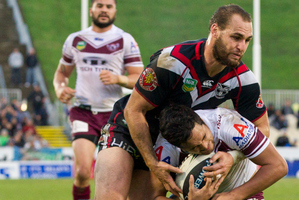 Simon Mannering already knew what it was like to lead a side on a streak but, after the past 18 months, it must have been awfully difficult to recall.
After being installed as club captain for 2010, Mannering's Warriors enjoyed five-game winning runs in that campaign and again the following season, marks which matched the team's third-best streak in their 19-year history.
The Warriors will again reach that figure with victory over the Broncos tomorrow, a feat which felt a long way off just a month ago.
Coming off the disastrous 2012 season which saw Brian McClennan depart, Mannering's captaincy was in question when new coach Matt Elliott arrived at Mt Smart.
Even when his continuing reign was eventually confirmed, Mannering's team didn't exactly come bursting out of the blocks, with an indifferent start culminating in the infamous hammering at the hands of the Panthers.
But with the Warriors righting the ship and, in the process, saving what looked like another lost season, Mannering is again in charge of a satisfied and successful side. And that has made his job, as captain and player, inordinately easier.
"When you're winning footy games, you're obviously doing something right, and as a captain you don't really need to worry about too much," he said. "Everyone is doing their job and that's how you get a result each week.
"Within my role, it makes things a lot simpler. Obviously there's a lot more confidence going around the team when guys are playing good football, so it almost comes second nature to them that they're there to do a job. It doesn't have to be drilled into them as much."
Mannering did have to double as a drill sergeant earlier this season, and he had plenty of opportunities to issue rebukes behind the posts against the Panthers last month. And although it's hard to quantify the impact of a captain when a team turns 180 degrees, like the Warriors have managed over the past month, his steady hand must have been a factor.
With that in mind, and with four consecutive wins now under his belt, Mannering was adamant he would have done nothing differently as captain when the Warriors reached a nadir.
"Not too much would've changed from me when we were losing. I know there's sometimes a bit of stigma around the captain and what they're doing, but it's more about everyone doing their job within the team.
"You try to do your best to help out around that area but it doesn't matter if you've got the best captain in the world - if the team isn't playing well as individuals and collectively then you're not going to win footy games."
The Warriors will be aiming to continue their winning ways against Brisbane at Mt Smart Stadium tomorrow afternoon, a team they beat 56-18 just four weeks ago.
Mannering is hardly expecting five in a row to come easily, especially with the Broncos' Origin contingent returning after missing the Warriors' big win in Brisbane, but the streak is insignificant to him, anyway.
"It wasn't like, after the Penrith game, we went, 'right, we need to win these next four'," he said. "The guys aren't looking at some streak, it's just a matter of continuing on and getting results. Because we're still down near the bottom of the table and there's still a long way to go."
That sentiment remains, even though the Warriors are just two points outside the eight. If they do make the eight it would be no surprise if Mannering was largely responsible.
Warriors v Broncos
Mt Smart Stadium, 4pm tomorrow
Warriors: Glen Fisiiahi, Ngani Laumape, Dane Nielsen, Konrad Hurrell, Manu Vatuvei, Thomas Leuluai, Shaun Johnson, Sam Rapira, Nathan Friend, Ben Matulino, Feleti Mateo, S Mannering (c), Elijah Taylor
Interchange: Russell Packer, Jacob Lillyman, Todd Lowrie, Dominique Peyroux, Kevin Locke, Suaia Matagi
Broncos: Corey Norman, Josh Hoffman, Jack Reed, Justin Hodges, Lachlan Maranta, Scott Prince, Peter Wallace, Ben Hannant, A McCullough, Sam Thaiday, Alex Glenn, Matt Gillett, Corey Parker
Interchange: Ben Hunt, Josh McGuire, David Hala, Mitchell Dodds, Jarrod Wallace, Dunamis Lui
APNZ
- APNZ