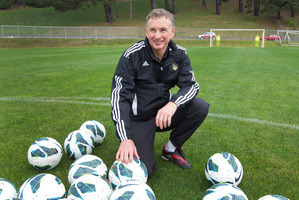 New Phoenix soccer coach Ernie Merrick has no trouble identifying his major goal for the club as it seeks to rise from the misery of last season. It's scoring goals. The 60-year-old Scot - who steered the Melbourne Victory to two A-league titles - talks footy with the Weekend Herald.
Q: What sparked your interest in the job?
When I came back from Hong Kong (where he coached the national side) a few jobs came up but most were straight appointments, apart from Adelaide and the Phoenix. A Fox sports commentator Simon Hill suggested I go for the Phoenix. It was a very thorough and extensive process over five or six weeks. I'm pretty ambitious but this is a work in progress and the vision includes giving opportunities to young New Zealand players through partnerships with academies etc to build a production line of youngsters from around the country.
Q: You were a physical education schoolteacher ...
Yes, I arrived in Melbourne on a one-year working holiday in 1975 and never returned to Scotland except for holidays.
Q: Your background as a player ...
I was born in Edinburgh and grew up south of Glasgow, in a place called Stewarton in Ayrshire. I supported Kilmarnock as my local team and Rangers. It wasn't a religious thing for me - I liked Rangers because they had exciting players and particularly a player called Jim Baxter, and of course Alex Ferguson was the striker for a while. I hasten to add I was an average footballer who never got past the semi-professional level. I started doing coaching courses at a young age in Australia.
Q: What is your soccer mantra?
I'm a fan of fast, exciting, attacking, entertaining football wherever I have gone. It's always been about scoring goals, which brings the crowd to its feet. That's the plan at the Phoenix, pure and simple ... getting the ball to key goal-scoring areas, and not panicking and hitting the ball anywhere. The boys have bought into it and are loving the practice in front of goal. Even the defenders are getting forward - we're getting a bit carried away but it's all about scoring.
Q: You've got a good start there with Paul Ifill ...
I'm a Paul Ifill fan and he has apparently got a new lease of life and lost seven kilos. He's training the house down. He will play as a left-sided attacking striker. I like to play two or prefer even three strikers. Jeremy Brockie will be another and the third will come down to form or we might make a new signing. I want Ifill in scoring positions and the same with Leo Bertos. The days of standing out on the wing and knocking in crosses have long gone. No one is guaranteed a spot but Ifill is looking very good and I can't wait to get Brockie back from Toronto.
Q: Ricki Herbert seems to think of Bertos as part defender ...
He's not a defender in my eyes. He's too good for that and he can't tackle. He'll be a striker for us ... people are saying we've got too many strikers then, but it is a very long season and it's all about depth and competition for places.
Q: Are there changes needed in the A-league?
The league is progressing really well. Some leagues in Europe are going backwards because they don't have the money. But the game in Australia is going upwards and quickly. I would like the FFA to recognise the international Fifa dates so league games that clash with international fixtures are switched. At the Victory we lost our two best strikers for nearly a month. This club has quite a few All Whites of course. When the Phoenix play Brisbane, a top team, in the first round they'll be away because it is a Fifa date for friendlies. The same will happen for a CONCACAF World Cup playoff. The other game has been moved but even there it means we play five games in 19 days with a fair amount of travel.
Q: Marco Rojas - will he make it in Europe?
Well I did sign him at Melbourne just before being sacked. We played the Phoenix in a friendly in Queenstown three years ago and this boy came on who looked about 12. The operations manager and I thought wow, who is this player? He has tremendous skill and speed and the right personality ... I think he will do very well in Germany. I'm looking for two or three more Marco Rojases - there are many more to be found here.
Q: Hobbies?
I love to travel. My wife and I have just been in the Australian outback, on the Dampier Peninsula in Western Australia. You can only get there by plane or four wheel drive. We became friends with an Aboriginal elder and his family and they took us fishing, with spears. I was afraid I was going to be eaten - there were crocodiles. It was absolutely beautiful - the beaches, great sunsets ...