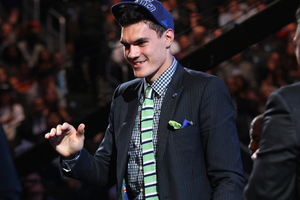 If being selected in the NBA Draft in the first place was an exciting proposition, the destination for Steven Adams is even more thrilling.
The Rotorua 19-year-old has been selected by Oklahoma City at number 12 in the first round in New York.
Click here to see a personal message from Steven Adams to his fans
The Thunder, with stars like Kevin Durant and Russell Westbrook, are one of the most exciting teams in the competition right now.
"I'm excited to start working really. It's the beginning of working towards the player I know I can become," says Adams.
"It was my hunch. They seemed to just like me. But it was kind of hard.
I'm pretty bad at reading people. But Oklahoma kind of stood out.
"Facility wise, it's amazing. It's like Disneyland for basketball players. It's crazy. It's so cool."
As far as his role in the team in season one, Adams is prepared to do whatever he's asked.
The team currently possesses Kendrick Perkins as their first choice centre, but his contract has just two seasons left, so the Thunder may be looking to groom Adams.
But the seven footer from the University of Pittsburgh is playing down his potential for now.
"I don't consider myself an NBA player yet. It's just that I need to progress my game more and more, and when someone says 'he's an NBA player', then yes.
"All I'm going to do is just be super supportive and help out wherever I can. Even if it's just being on the bench or whatever, staying positive for the boys, training hard, competing with them. If that leads to a championship, then I'll do it."
There are many pundits who think this Thunder team is ready for a championship, especially after an exciting run in the 2012 playoffs, where they were defeated in the finals in five games by the Miami Heat.
"I wouldn't be surprised if they do get a championship next year, because their programme is really good," Adams said.
Meanwhile, the first pick was a huge surprise, with Canadian Anthony Bennett picked in the top spot by the Cleveland Cavaliers.
Almost every projection had either Nerlens Noel or Alex Len in the top spot.
It had an impact on Adams, because when Noel was eventually chosen at No 6 by New Orleans, he was traded to Philadelphia immediately afterwards.
That effectively put Philadelphia out of the running for Adams, because they had their big man by way of Noel, a centre like Adams.
For Bennett though, he makes history, becoming the first ever Canadian selected at number one in the NBA Draft.
Victor Oladipo was chosen at number two by the Orlando Magic, while the number three pick was a hometown selection for the Washington Wizards, who chose Otto Porter from local university Georgetown.