Remember back when the Blues travelled south to the Highlanders and got a duffing? When the Crusaders squeaked past the Waratahs at home thanks to some errant kicking? Ah yes, the good old days of the Super 15, before the impertinent French came to town for their end-of-year vacation. Rugby writer Patrick McKendry is on hand to offer a refresher course to those who weren't really paying attention the first time around (or those who just plain forgot).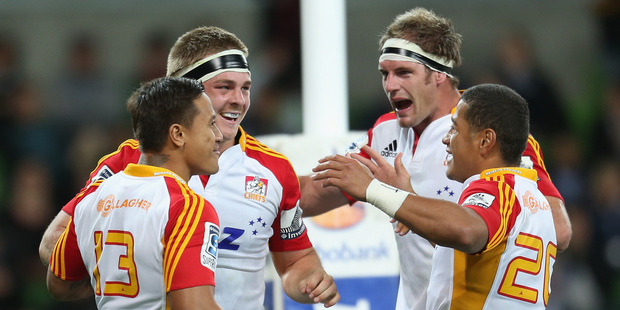 1. Remind me again, Patrick, which of the NZ franchises has a realistic chance of making the playoffs?
The Chiefs, Crusaders and Blues. Of those, the Chiefs are in the box seat again. They are sitting nicely in second place overall, three points behind the Brumbies. Significantly, they have played two fewer matches than the men from Canberra and will go to the top of the table if they can beat the Hurricanes in Hamilton tonight. The Crusaders are in sixth (the top six make the playoffs), but have a tricky run-in. They tend to dig in at this time of year, but how their eight returning All Blacks cope after three physical tests against France will be vital. The Blues are in eighth but have an even more difficult run-in. The Hurricanes, ninth, are all but gone and the Highlanders, with a 2-11 record, will be concerned only with avoiding the wooden spoon. They could cause a problem for the Crusaders in Dunedin tomorrow night, though.
Run-ins
Chiefs (56 points, 1st NZC, 2nd overall)
v Hurricanes, home
v Crusaders, away
v Blues, away
Crusaders (46 points, 2nd NZC, 6th overall)
v Highlanders, away
v Chiefs, home
v Hurricanes, home
Blues (43 points, 3rd NZC, 8th overall)
v Sharks, away
v Cheetahs, away
v Chiefs, home
Hurricanes (39 points, 4th NZC, 9th overall)
v Chiefs, away
v Highlanders, home
v Crusaders, away
Highlanders (22 points, 5th NZC, last overall)
v Crusaders, home
v Hurricanes, away
v Rebels, away
2. Which NZ teams were, to use the vernacular, charting on an upwards graph? Which are trending down?
Bizarrely, the Highlanders could consider themselves on the steepest upward graph by virtue of their incredible 38-28 victory over the Blues last time out. The Chiefs are on the rise but have gone four weeks without a game - they had a bye before the test series. Before that they enjoyed a convincing 28-19 victory over the Crusaders at home. On the slide are the Blues, who lost to the Brumbies at home before running into the Dunedin ambush, and the Hurricanes, who lost to the Brumbies in Canberra 23-30. The Crusaders could consider themselves on a downward slope too - after their loss to the Chiefs they were extremely fortunate to escape with a 23-22 victory over the Waratahs in Christchurch.
Last three
Chiefs
beat Crusaders 28-19 (h)
beat Hurricanes 17-12 (a)
beat Force 22-21 (h)
Crusaders
beat Waratahs 23-22 (h)
lost to Chiefs 19-28 (a)
beat Blues 23-3 (h)
Blues
lost to Highlanders 28-38 (a)
lost to Brumbies 13-20 (h)
lost to Crusaders 3-23 (a)
Hurricanes
lost to Brumbies 23-30 (a)
lost to Chiefs 12-17 (h)
beat Cheetahs 39-34 (a)
Highlanders
beat Blues 38-28 (h)
lost to Force 18-19 (a)
lost to Bulls 18-35 (a)
3. Are there any players who missed out on the France series who could really use this final month or so to press a claim for an All Black spot?
Steve Hansen's mind is pretty well made up on his Rugby Championship squad. His biggest job is who to let go. Injuries could quickly change things, though, so Tanerau Latimer - named ahead of Sam Cane for the Chiefs against the Hurricanes - could be the man with the most to play for. A few more stunning performances for the Blues from Steven Luatua could put him closer to Liam Messam's black No6 jersey.
4. Who are the players who did themselves few favours in the France series and need to demonstrate good form?
The vast majority were pretty good, but a few let themselves down, particularly in the third test at Yarrow Stadium. Piri Weepu didn't take his chance and nor did Victor Vito. There's a bit of chat about how Sam Cane didn't set the world alight, but he was solid enough.
5. The Chiefs are quite good, right?
You could say that. And they're quite keen to prove they can go back to back, too. Talking to a former high-profile Chiefs player recently, he was aghast at how much publicity the Crusaders get at the apparent expense of the Chiefs. I guess that comes from winning seven titles, but Dave Rennie's men are building a dynasty of their own.
6. So why were they so thinly rewarded in terms of test caps in June?
The Chiefs are greater than the sum of their parts, and that's important when building a great team. Who would consider himself unlucky not to make the June squad? Maybe Tanerau Latimer? That's probably it.
7. Is this the biggest month in Todd Blackadder's coaching career?
He's probably had bigger - think the ongoing crisis of the 2011 earthquakes in which he wasn't only a coach, but also a counsellor for his franchise and a talisman for a whole community. In terms of results, though, yes, he probably has to make the final at least in order to feel good about keeping his job. The expectations are that high at the Crusaders.
8. People have rightly focused on the Highlanders, who have been inexplicably bad, but has that deflected from a fairly nondescript Hurricanes' campaign?
You're right, the Hurricanes have been poor. The were swept 0-2 by the Blues and have struggled away from home. Their most meritorious victory was against the Cheetahs, a 39-34 win in Bloemfontein a week after Mark Hammett's men were smashed by the Bulls in Pretoria.
9. Come on, be honest, have the Blues really been that much better than in 2012? Really?
Yes, really. Have you forgotten last year already? It was like watching a crash in a big bike race - painful and with potentially long-term consequences for the participants, but compelling for the viewer. Sir JK has improved them already, and not only in terms of their win-loss record.
10. Jamie Joseph, dead man coaching?
Not necessarily. Who is in the frame to take over? I reckon he'll be kept on for another season. The players' feedback - compulsory for all NZ players on their coaches post-season - would be an interesting read, though.