Coach wants players in top shape for sudden-death play-off against Firebirds.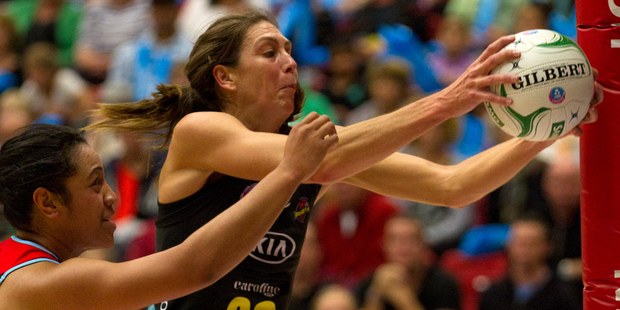 Managing the needs of both age and youth in their shooting end is presenting challenges for the Magic as they approach Sunday's sudden-death play-off against the Queensland Firebirds.
Sharpshooter Irene van Dyk has been closely monitored this week after copping a hefty blow to her shin in a collision with Mystics defender Malia Paseka late in Monday night's final round clash. The 41-year-old also suffered severe bruising after Paseka landed awkwardly on her leg.
In ordinary circumstances van Dyk probably would have come off, but with the Magic chasing a big win to secure third place on the ladder and with it a home semifinal, they were reluctant to remove their key strike weapon from the court and risk upsetting their attacking momentum.
Magic coach Noeline Taurua said she had had to carefully manage van Dyk's workload this week, but she is confident she will be ready to go for Sunday night.
"The old girl just needs to take a bit more time to recover, but she'll be right for [the Firebirds]," said Taurua.
Van Dyk played a limited role in training on Wednesday night but completed most of yesterday's session, sitting out a couple of blocks - although she used that time to shoot goals at the other end of the court.
Other than van Dyk's painful pin, there are no further injury concerns for the Magic ahead of their minor semifinal clash. Even star defender Casey Kopua, who usually at this stage of the season is only held together by tape and heavy-duty ankle braces, is looking in remarkably good nick - although she will add "touch wood".
"Physically they're in pretty good shape and now it's about getting mentally in tune," Taurua.
After last year's stunning finals run, in which the Magic pulled off three tense come-from-behind victories to snatch the ANZ Championship crown, Taurua is confident her team can cope with the pressure that lies ahead. But she admitted that young shooter Ellen Halpenny, who came from the Tactix this year, would need extra support this week. Halpenny, playing in the key role of goal attack, is the only one of the Magic's starting line-up who has not played in a transtasman league final series.
Taurua said she was conscious that the added intensity of finals was a new experience for the 22-year-old.
"Yeah, I do need to pick her up and just get stuck into her about a few things," she said.
"It is going to be big for her, but as the pressure has gone on week-in, week-out she actually stands up really well under pressure. If anything she is the opposite of a lot of people - she doesn't wilt under pressure, she grows. But this will be a whole new learning experience for her and that's what I've got to remember."
One of Halpenny's stand-out games this season was in the Magic's round 10 extra-time win over the Firebirds - their semifinal opponent this weekend. In the pressure-filled final stages Halpenny stood up to assume the bulk of the shooting duties to help her side to their first win over the Firebirds on their home soil.
That round 10 win across the Tasman proved the turning point for the Magic, sparking a five-game winning run.