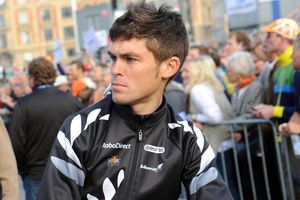 New Zealand cyclist Jack Bauer realised a dream when he was today confirmed as a starter in the 100th Tour de France, which begins in Corsica on Sunday (NZT).
The 27-year-old becomes the 11th New Zealander to ride in the Tour, and will join compatriot Greg Henderson as the Kiwi contingent.
"It is a dream come true as it is for any Kiwi cyclist,'' Bauer said from Corsica. "This is the pinnacle of any road cycling event and, to start it as a Kiwi, not many have done in the past, is something I have dreamed about since I was a kid.
"I remember watching it back in my day and it seemed like an impossible road to get here, and yet here I am on the eve of the Centenary edition. It is pretty special.''
Bauer's Garmin-Sharp team was named officially only today, after Henderson was named two weeks ago for his second start with the Lotto-Belisol team.
Bauer said he was focused for the huge challenge of 3403km of racing over 21 stages.
"I have prepared really well for this. Since Paris-Roubaix (in early April) I have had nothing on my mind but this. I've made a lot of sacrifices and put a lot into it but I am really happy to be here and on the start line.''
His role will be as a support for the team's general classification riders, especially Andrew Talansky who has aspirations for the white jersey for the best young cyclist, while the Kiwi will also be a key member for the team time trial.
Bauer's strong performances this season and his excellent debut in the Giro D'Italia were strong indicators of his chances for selection to the Tour de France.
"I rode the Giro last year and had a great Grand Tour debut. I have showed I can perform over three weeks. I am old enough and strong enough to handle it.
"But everyone says the Tour is another ball game entirely. It is much higher level, much higher speed, a way more frantic race. So I don't know if the two can be compared.''
Bauer will make his racing debut in Corsica, with the island selected to host the opening three stages of the tour for the first time, and he is also eying the famous mountain stages later in the tour, including a double ascent of the switchbacks of Alpe D'Huez and the barren face of Mont Ventoux.
"D'Huez has always been a mythical climb,'' he said. "A lot of battles have been fought up it. I was looking forward to see it, which I did at the Dauphine when I got to experience the beast, but not a double hit like in the Tour this time.
"Ventoux is another kettle of fish entirely. It is going to be a bit of a battle to get up that one.''
The Garmin-Sharp team has been preparing initially at altitude at Sierra Nevada, where Bauer met with members of the New Zealand swim team, and in recent days in Girona before flying into Corsica today.
"I am relatively relaxed person and will just soak it up,'' Bauer said. "I am really happy to get this chance so early in my career.''
New Zealand riders who have competed in the Tour de France:
Harry Watson (1928), Tino Tabak (1971, 1972, 1973), Paul Jesson (1979), Eric McKenzie (1982, 1983, 1985, 1986), Nathan Dahlberg 1988, 1989), Stephen Swart (1987, 1994, 1995), Julian Dean (2004, 2006, 2007, 2008, 2009, 2010, 2011), Hayden Roulston (2009), Chris Jenner (2001), Greg Henderson (2012, 2013) and Jack Bauer (2013).
- APNZ