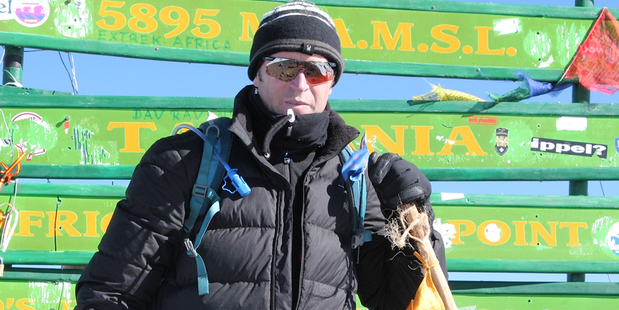 Mahe Drysdale has completed a block of altitude training for his return to rowing, but it has hardly been completed in the usual controlled environment.
The 34-year-old summited Africa's highest peak, the 5895m Mt Kilimanjaro in Tanzania, earlier this week. He says he felt "spaced out", as if he was "having an out of body experience" when he came over the final ridge. The reward was reaching the peak 10 minutes before sunrise after six hours 20 minutes climbing through darkness. Until then the highest he'd been was catching a train near the top of the 4158m Jungfrau peak in the Swiss Alps.
Drysdale was in a trekking party which included fiancée Juliette Haigh, comedian Rhys Darby, musician Boh Runga and Herald on Sunday columnist and broadcaster Kerre McIvor. Guides, porters and chefs accompanied them.
The expedition raised money for World Vision Micro, the aid agency's microfinancing concept where loans generally in the hundreds of dollars help entrepreneurs in developing countries. Once a borrower is approved, their name, story and business idea are uploaded onto a website.
From there people can choose to fund part of their loan. Most money is invested in agriculture, commerce and production.
Speaking to nzherald.co.nz, Drysdale found it bizarre how altitude affected him.
"It was quite a shock. My legs weren't necessarily that sore, my heart wasn't exactly racing and I was breathing normally but I just didn't feel right. I had a bad headache and my decision-making was not as sharp. It was a weird feeling which I've never experienced before and it's not something I want to do a lot."
Climbing Kilimanjaro is no comparison to the ascent of Mt Everest or K2 but it can take a toll. There are no Cliffhanger moments, but altitude sickness is a danger. The BBC website advised climbers to avoid "bounding ahead enthusiastically" despite what can be a gentle gradient. The site claimed the general approach should be to do it like "an arthritic 90-year-old walking backwards".
Drysdale says in 11 months' sabbatical he has completed almost everything he wanted except climbing in the Himalaya and visiting Mahé, the island he was named after, in the Seychelles. He has completed an Ironman and a Coast-to-Coast.
Drysdale returns to competitive rowing this week at the Holland-Beker regatta in Amsterdam. He'll race at the Henley Royal Regatta next week before returning home where he will trial for a spot as the single sculls representative and target a record sixth title at the world championships in South Korea, starting at the end of August.