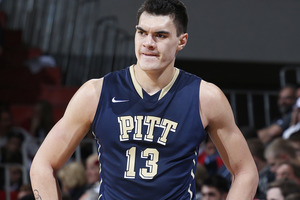 Steven Adams has his ticket to the big show and he shouldn't have to wait long to hear his name called - and become an instant millionaire.
Adams will become the first New Zealander selected in the opening round of the NBA Draft on Friday (NZT), a fact all but guaranteed by the invitation he received to the 'green room' at the Barclays Center in Brooklyn.
NBA general managers are canvassed before a select band of players are offered the chance to attend the draft, with reports out the United States indicating Adams was among the last three of the 13 athletes invited.
The 19-year-old confirmed as much on his Twitter account, writing he arrived in New York City earlier this morning (NZT) and he was honoured to attend the glittering ceremony.
If past precedent is anything to go by, a player possessing a ticket to the green room will be picked in the top 20, but most projections have Adams being drafted earlier than that.
Various Americans publications' mock drafts have Adams being selected in the 10-14 range, a position which was unimaginable when the Rotorua product turned up at Pittsburgh University as a raw, underdeveloped talent.
Chard Ford, a draft expert who works for ESPN Insider, said his initial view of Adams was that the centre would not be ready for professional basketball until at least his junior (third) year of college.
But Adams illustrated he was a fast learner and, after surprising many by declaring himself eligible for the draft after just one year at Pitt, many NBA teams were now eager to acquire the Kiwi.
"He was on Jamie Dixon's team at Pittsburgh and, at the start of the season, it looked like he had never played basketball before,'' Ford said on the BS Report. "He looked that lost on the floor.
"But his learning curve was really steep throughout the season, and by the end of the season he was already a guy who looked like he could dominate on the defensive end, and even his offensive game was really starting to come along.''
Adams further impressed while working out for a number of NBA teams and now his progression seems set to result in a huge pay day, with a selection in the 10-12 range earning him a salary of close to US$2million a year.
- APNZ