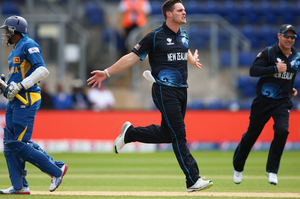 Opening bowler Mitchell McClenaghan is the only member of the Black Caps to be named in the Champions Trophy team of the tournament.
Winners India provided five players in the team announced by the International Cricket Council (ICC) today.
McClenaghan finished as the second highest wicket taker in the tournament with 11 dismissals at an average of just 13.09 in three matches.
The Auckland bowler has made fast strides since making his ODI debut against South Africa at the start of the year. The 27-year-old has taken 29 wickets in 10 matches, including four four-wicket bags against South Africa, England, Sri Lanka and Australia. In comparison fellow pace bowler Kyle Mills has eight four-wicket bags in 153 matches.
Indian captain MS Dhoni was named as skipper of an all-star team that also included compatriots Shikhar Dhawan, Virat Kohli, Ravindra Jadeja and Bhuvneshwar Kumar.
England's Jonathan Trott and James Anderson were included along with Pakistan's Misbah-ul-Haq, Kumar Sangakkara from Sri Lanka and South Africa's Ryan McLaren.
Joe Root of England was the 12th man.
Dhoni was named as skipper after he led his side to victory in the final, becoming the first captain in history to lift all three major ICC trophies - the 2007 World Twenty20, 2011 World Cup and 2013 Champions Trophy.
While not at his best with the bat, Dhoni led India well in the field and his clever deployment of spin was reflected in the wicketkeeper's four tournament stumpings.
The team of the tournament was selected by a panel that included former Indian fast bowler turned match referee Javagal Srinath as well as leading Pakistani umpire Aleem Dar.
Champions Trophy team of the tournament (in batting order):
Shikhar Dhawan (IND) 363 runs
Jonathan Trott (ENG) 229 runs
Kumar Sangakkara (SRI) 222 runs
Virat Kohli (IND) 176 runs
Misbah-ul-Haq (PAK) 173 runs
MS Dhoni (IND, capt/wkt) 27 runs, 5 catches, 4 stumpings
Ravindra Jadeja (IND) 80 runs and 12 wickets
Ryan McLaren (RSA) 83 runs and 8 wickets
Bhuvneshwar Kumar (IND) 6 wickets
James Anderson (ENG) 11 wickets
Mitchell McClenaghan (NZL) 11 wickets
Twelfth Man: Joe Root (ENG) 173 runs
- nzherald.co.nz/AFP