Chatham Cup match played at stadium after nails twice scattered on Takapuna ground.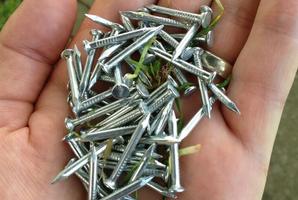 Down but far from out, the Takapuna soccer club have vowed to do everything possible to have their pitches ready for play this week after two acts of vandalism threatened to close the grounds.
An inspection of Taharoto Park's No 1 field by council staff yesterday discovered another 25 shiny, new nails on the playing surface.
On Sunday, 59 nails were found and, given the likelihood of more, match officials had no option but to transfer a key ASB Chatham Cup match to the artificial pitch at North Harbour Stadium.
While that incident left club officials fuming, they were even more annoyed at a wanton act of stupidity on the No 2 (upper) pitch on Friday night when a vehicle was driven on to the sodden surface. A series of "donuts" ripped up the surface which was left unplayable.
That ground, normally used on a Friday night for floodlit football by 5 to 8-year-olds, is in need of extensive repair to be ready, hopefully, for this weekend.
"It is obvious whoever drove on to No 2 had great difficulty in driving off," said club secretary Brian Giblin. "We would have been happier if they hadn't. We are a small club and losing grounds really affects us dramatically."
Through Northern Football and NZ Football officials, the club will make a complaint to the police in the hope of finding whoever is responsible.
An early inspection by match officials on Sunday morning found nothing on the pitch but by the time they returned to make a further inspection three hours later they found the nails and had little option but to transfer the match.
The game, which was delayed two hours and finished under lights, was won by Birkenhead United who beat Glenfield Rovers in extra time. Birkenhead will host Hamilton Wanderers in Saturday's fourth round.
In other cup news yesterday, 2011 winners Wairarapa United were booted out when it was discovered they played an ineligible player in their third round 2-1 win over Napier City Rovers.
NZ Football officials ruled Vanuatu player Brian Kaltak was ineligible and have awarded the game to four-time winners Napier who will be away to Palmerston North Marist on Saturday.