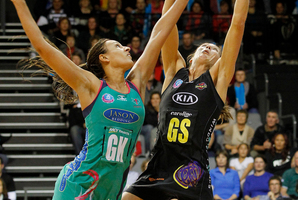 A combination of desire fuelled by last season's near-miss and confidence from Sunday's big win has the Melbourne Vixens believing they're perfectly primed to take the transtasman netball title.
Defender Geva Mentor says the Vixens, who were ANZ Championship minor premiers last year but lost a home grand final to the Magic, are determined to make amends in the upcoming finals series.
"It's definitely left a burning desire, going through a season, making a grand final and then coming up short and losing it," Mentor said yesterday. "Definitely all guns blazing and our aim is set on bringing back a home grand final and definitely coming up one place better."
The Vixens finished the minor round with a confidence-boosting 30-goal thrashing of West Coast Fever on Sunday. That put them second, setting up a likely major semifinal meeting with Adelaide.
Mentor said if the Vixens do face the Thunderbirds, they'll like their chances as the only team to have beaten them this season, a 14-goal win in round two.
"We'd like to think we've found that form again towards the end of the season," Mentor said. "So I think they'll be pretty intimidated if they have to face us."
Mentor said winning big against the Fever had been important.
"A lot rides on confidence and that's going to get us over the edge."
- AAP