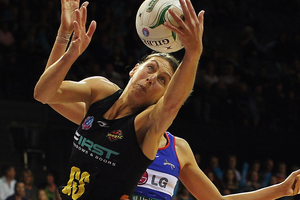 Magic 68 Mystics 40
The Magic have snuck their way into third place on the ladder by less than half a percentage point after obliterating the Mystics in Tauranga last night to claim a home semifinal.
Needing to beat the Mystics by around 25 goals to boost their goal percentage above the Queensland Firebirds and move into third place, the Magic bench rode every goal and every turnover in the final quarter as the margin approached the mid-20s.
Heading into the match it looked as though the Waikato-Bay of Plenty side would have to settle for fourth this year, making their task ahead of them in the finals exceptionally tough.
But the Magic, who have become accustomed to pulling rabbits out of hats over the past two seasons, just managed to amass the total they needed, smashing the Mystics by 28 goals to ensure home advantage for next Sunday's sudden death minor semifinal against the Firebirds. In the other semifinal, minor premiers the Adelaide Thunderbirds will meet the second-placed Melbourne Vixens, with the winner to go straight through to the grand final.
Had there not been so much riding on the scoreline, last night's match would have been a severely dull affair, with the Mystics putting on a poor show in the final outing of the year to confirm their wooden spoon status.
The loss was caretaker coach Ruth Aitken's final game in charge of the Mystics, as she leaves to take up a posting with the Singapore national team.
It was an even crueller end for Bailey Mes, one of the Mystics few bright spots this season. The shooter, who has impressed in her late season appearances at goal shoot after replacing the out of form Cathrine Latu in the starting line-up, was forced from the court 12 minutes into the match with what looked to be a serious knee injury.
Mes, who was being tipped for a Silver Ferns recall - only this time in her more favoured shooting position, appeared to wrench her after landing awkwardly as she took a high ball.