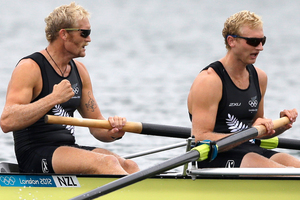 Hamish Bond and Eric Murray created further history at the second World Cup regatta of the season in England.
They have recorded the longest winning streak at international events in men's rowing after recording their 14th consecutive major title.
Against an underwhelming field in post-Olympic year, Murray and Bond streaked away to win by 15.73s. The performance was so decisive that at one point a wide-angled television shot showed no opposition crews in the frame as New Zealand exited and no-one else entered.
Bond and Murray had been equal with the Danish lightweight four of 1996-1999 and the German men's eight of 2009 to date. The Germans also stood to extend their record overnight but have gone through several crew changes.
Their current record includes an Olympic gold medal, three world championships and 10 World Cup wins. A couple of prestigious Henley Royal Regatta titles (2009 and 2010) have complemented their legacy.
At the London Games, they even set a world best time on their way to the final (rowers refer to 'world best' rather than 'world record' because of the variance in water conditions).
Last night's time of six minutes 16.01s was a record at a World Cup. They raced in choppy water conditions but had wind assistance.
"We won convincingly, yes, but as far as we're concerned it was a bit rough out there," Murray said. "By our high standards we let ourselves down slightly. But it's a really good start and we've changed a lot in the last six months. We wanted to go out and lay down a marker."
"These days we feel we have to go out and win or we've failed," Bond added. "We can sympathise with the All Blacks, they face the same thing; it's a tough position to be in. I was quite nervous this morning, I'm not sure why, so I was pleased to win."
Underlining the pair's continued dominance was a heat win by more than 18 seconds on Friday to send them directly into the final. They even found time to watch the All Blacks defeat France at a local pub as they relaxed beforehand. Murray also chose the medal ceremony as an opportunity to produce a picture wishing his wife Jackie happy birthday from his lycra race suit.
New Zealand overall medal haul was four gold and a silver from seven finals.
The new men's double sculls crew of Robbie Manson and Michael Arms and the men's lightweight four of Curtis Rapley, Peter Taylor, James Lassche and James Hunter backed up wins at the Sydney World Cup. Emma Twigg took the second victory in her World Cup career; the first was at Lucerne in 2011. She was the only women's sculler in the field who had raced the Olympic final at the same course in August.
The women's pair of Rebecca Scown and Kayla Pratt took silver in their first international regatta together. The men's coxless four and lightweight single sculler Duncan Grant came fourth.
The two boats containing Olympic double sculling champions Joseph Sullivan and Nathan Cohen failed to make finals. Sullivan finished fifth in the B final of the single sculls; Cohen and his crewmates finished third in the B final of the quad.