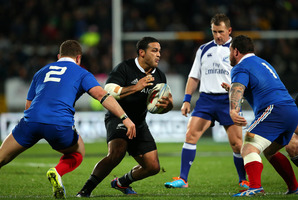 The main reason why Aaron Smith has been struggling so much with the Highlanders this season is because he was trying to do too much.
On Saturday night he enhanced his reputation by doing nothing at all. He watched on the sidelines as his replacement Piri Weepu struggled to get to grips with the game. The Blues halfback was replaced after only 42 minutes by Tawera Kerr-Barlow, who also battled to impose his will.
Maybe it was just one of those nights for No9s, although Frenchman Jean-Marc Doussain appeared to have more spark.
One thing is certain and that's how important Smith is in getting the All Blacks on the move. Quick delivery is his modus operandi.
It was displayed again in Christchurch last weekend - his flat cut-out delivery to Ma'a Nonu, which the second-five did well to control with his left hand before going on a jinking run - was conspicuous by its absence in New Plymouth.
At AMI Stadium he also showed an intelligent kicking game.
In the first test at Eden Park it was his support lines which impressed - he scored a try and was involved in another. Weepu tried to reach the same heights in New Plymouth but hardly made base camp. Knocking the ball on at the base of rucks was his fault. Being caught behind the advantage line wasn't, necessarily. The enduring impression, though, is Smith is far-and-away the best halfback for an All Blacks game plan.
If Weepu must become used to a back-up role at best, the same can be said for Victor Vito and Rene Ranger.
Vito was determined to prove he can cut it as a test No6 but again showed he lacks the physicality and killer instinct to do so.
Ranger, after two stunning performances as a substitute, finally got his chance from the opening whistle, but couldn't continue his form and perhaps that's not surprising.
He was trying hard - and made 95m with the ball, the most of any player on the pitch - but the instincts of a specialist wing such as Julian Savea, like those of Aaron Smith at halfback, were missed.