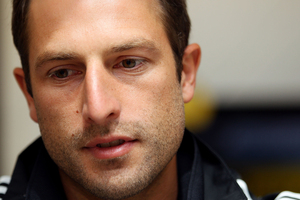 Andrew Durante's possible ineligibility for New Zealand would create a significant issue for the All Whites ahead of their crucial World Cup playoff, especially as coach Ricki Herbert was considering him as a central midfielder.
Fifa announced on Saturday they were investigating Durante's eligibility after he played in the 2-0 defeat of the Solomon Islands in a World Cup qualifier in March. It's something New Zealand Football hoped would happen - they asked the Solomon Islands, through the Oceania confederation, to appeal Durante's eligibility - to provide some clarity ahead of a crucial phase in their calendar.
Fifa said some months ago they thought Durante, who was born in Sydney but is now a New Zealand citizen after five years playing for the Wellington Phoenix, was eligible and it was up to NZF to decide if they wanted to risk it. NZF found this inadequate, which is why they forced the issue by playing Durante in a qualifier after the All Whites had already guaranteed progression to November's intercontinental playoff against the fourth-best side from North and Central America.
Durante was looming as a central character in that match. The 31-year-old was originally seen as a direct replacement for Ryan Nelsen, who retired from all football earlier this year, and would slot into the middle of a back three alongside Winston Reid and Tommy Smith.
It's still the most probable outcome, assuming Durante is cleared, but Herbert was keen to explore whether Durante could fulfil a role as a holding midfielder and was eyeing up the August international window as an opportunity to try it out.
"It depends on who we play [in the playoff] and what formation were are going to employ but I think he would be more than capable of playing in there,'' Herbert said. ``I would like to play him in that role in one of the five games [we are likely to have before November's playoff].''
Central midfield and fullbacks remain New Zealand's most problematic positions. Michael McGlinchey is a certainty for the more forward-running central midfield role and Ivan Vicelich is the most likely option in the holding - he played all three games in that position at the 2010 World Cup even though he's more regularly a centre-back these days. Youngster Tim Payne is another option in central midfield but Herbert might be more inclined to go with experience in a high-stakes game.
There is also a dearth of fullbacks, particularly on the right, which is why Herbert has favoured the 3-4-3 formation he first adopted against Bahrain in 2009.
He said he was considering switching to a 3-5-2 formation in the coming months but would at least like the option of playing a back four.
Herbert tried converting Leo Bertos into a fullback at the Phoenix last season and it's something he's still considering at international level.
"Leo played there for me at the Phoenix and I think he got better and better and learned the defensive responsibilities,'' he said. ``I thought he coped. He's one of the quickest players over a short distance and he would have good support from Tommy and Winston. Someone like Durante could sit in front and screen to give us a little more protection. But we need the games to make that happen.''
They also need some clarity around Durante's situation and it's hoped Fifa will make a decision soon.
- APNZ