He'll be ready for test rugby, but other senior All Blacks will need need to maintain their leadership roles.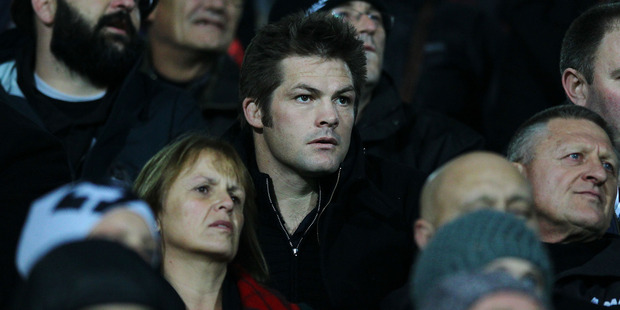 It was hard enough for the All Blacks to defeat France without Richie McCaw, but now they face an equally big challenge of integrating him in time for the Rugby Championship.
The difficulties in that sit on two fronts.
There's the immediate business of ensuring that, after last playing any rugby seven months ago, McCaw is physically and mentally ready to resume test duties.
That's the lesser concern - the 32-year-old has an unrivalled capacity to keep himself fit and probably will somewhat freakishly play himself into top form over the next seven weeks on the back of a few club games and possibly an outing or two with the Crusaders.
He's expected to play his first game - for his Christchurch club - in the next few weeks after putting himself through a rigorous 12-week pre-season training schedule.
"He's got seven weeks before the first test," coach Steve Hansen said yesterday of the August 17 Rugby Championship meeting with Australia in Sydney.
"He'll start to really ramp it up.
"Now he's at the phase where he's getting into contact and working on his ball skills. Speaking to him last night, he's itching to go.
"We don't have to worry too much about his mental capabilities. He proved that during the World Cup. And time and time again he has shown that he doesn't take too long to jump back into the saddle."
The second issue is trickier as it will require the All Blacks to change ingrained behaviour: the senior leaders in the squad have to be wary that the return of McCaw is not their cue to take their leadership leave.
A major goal of the French series was for greater collective responsibility for decision-making to be assumed. It was a goal mostly achieved.
There were periods, especially in the first and third tests, where the All Blacks were under prolonged pressure. The respective games hung in the balance. Cool minds were required, good decisions had to be made and composure had to be flooded through the side.
No question, a number of players took a big step forward on that front, Ma'a Nonu, Aaron Cruden, Sam Whitelock and Aaron Smith especially. Now they have to ensure the return of McCaw doesn't see them take two steps back.
"We have [seen good progress made by the wider leadership group]. Aaron Cruden is one of those guys and Sam Cane as well and it has been good," said Hansen.
"We can sit here and be frustrated with [Saturday's] performance because it wasn't our best but at the end of the day we have to look at the whole package and say we are okay, give ourselves a pass mark and keep working."
The elevation of Cruden and Cane to the inner sanctum of the All Black decision-making hub is in itself proof of how determined Hansen is to protect the side from being overly reliant on McCaw and to a lesser extent Daniel Carter.
Hansen has reasoned that the All Blacks will be in trouble if they tie up too much of their decision-making expertise in old legs. He wants a number of younger players to fast-track their leadership roles this year and next ahead of the World Cup.