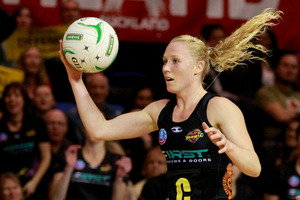 Magic skipper Laura Langman has emerged as the Mystics' No1 target for the 2014 season - and the prospect of a switch cannot be discounted.
The star Magic centre has been the subject of transfer speculation over the past few years as one of the top midcourters in the sport. The Mystics are a short hop up State Highway One, are well resourced and have the corporate potential of the Auckland market.
In previous seasons, Langman was considered a possible foil for Temepara George in Auckland, combining in a centre-wing axis as they did for the Silver Ferns. The Mystics approached Langman last year but Kayla Cullen was then a top prospect at centre and might have been ready to step up. Instead the 21-year-old struggled in the unfamiliar position. The midcourt has become top priority for the Mystics.
Langman would be a key in re-building the team and help usher in a new culture. Despite all of the injuries and other problems that have beset the team this year, their awful performances have revealed some serious issues with some senior players.
On the surface, it appears the Mystics need Langman more than she needs them. She is a major influence and captain of a Magic team that have made history again this season, becoming the first defending champion to reach the final four.
The Mystics should bounce back next year with returning coach Debbie Fuller, but this campaign's scars will take some healing. Langman might not be captain; there are dominant personalities like Anna Harrison and Maria Tutaia.
However, the Magic are in transition, with an almost entirely new board set on change, Tim Hamilton replacing long-time CEO Sheryl Dawson and foundation coach Noeline Taurua retiring. Though the team is focused on replicating their triumph of last year, there have been murmurings of discontent over some of the new initiatives as they prepare to play the Mystics in their final regular season game tomorrow.
Board members John Parker and Margaret Forsyth are part of the high performance sub-committee; individual meetings were held with players to talk about future goals and directions as well as offering them input into the process around the new coach.
Langman was said to be surprised to be told she "only had a few years left [at top level]". The 27-year-old has a remarkable record of durability - she has never missed a Silver Ferns game since her debut in 2005 - and, despite the potential for misunderstandings, it's not necessarily a message to be relayed to such a marquee player.
The board has taken a more active role in operational matters: "We are going through some major changes," chairman John Wiltshire told the Herald on Sunday. "We have people who have skills around change and transition. We see it as a team approach and there will be roles for board members in assisting that process. We are challenging what has happened in the past and it is all shoulders to the wheel."
Players have accepted that the new coach will take time to find her feet - none of the contenders is believed to have extensive top-level experience; current assistant Tanya Dearns, former assistant Marg Foster and Forsyth have all been mentioned as applicants. Change of this sort can be unsettling, particularly if players think it could disturb a winning formula.
The Magic have also had financial issues for most of their existence, the extent of which has helped spark the new board's direction. Partly because of these constraints, the team have had to 'get by' with arrangements unknown in other professional sports. Players have billeted team-mates when training out of town, providing accommodation and meals. Other players have stayed at motor camps or made the journey back the same night (from Tauranga to Hamilton for example), returning to Tauranga the next morning. It's a testament to the professionalism of the team that they have succeeded in such circumstances, but needs to change.