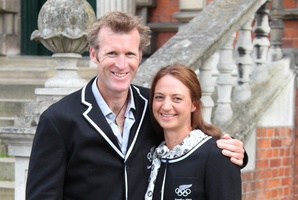 Since his Olympic Games gold medal almost 11 months ago, Mahe Drysdale hasn't exactly sat back on his 16-acre property near Lake Karapiro and admired the sunsets with fiancee Juliette Haigh, Oslo the golden retriever, Nibbles the lamb, eight cows and four chickens.
He could have dunked gingernuts in his tea while watching a mantelpiece groaning under the weight of Olympic gold and bronze medals and five world championship gongs. Instead he has completed the South Island Coast-to-Coast (he finished 39th) and shuffled through the Port Macquarie Ironman (he finished in 11h 14m 41s and described it as "the hardest thing" he has ever done), Now he has laced up his tramping boots for an ascent of 5895m Mt Kilimanjaro in Tanzania.
Drysdale is edging towards the summit of Africa's highest peak. He started on Wednesday and is due down on Tuesday in a party which includes Haigh, comedian and expedition leader Rhys Darby, musician Boh Runga and Herald on Sunday columnist Kerre McIvor.
The 34-year-old is completing the trek before he pushes for a record sixth single sculls title at rowing's world championships in South Korea, starting at the end of August.
He is raising money for World Vision's latest initiative, microfinance.
Loans from such a venture help entrepreneurs in developing countries. Once a borrower is approved, their name, story and business idea are uploaded on to a website. From there, people can choose to fund part of their loan. Most money is invested in agriculture, commerce and production.
Drysdale is completing the expedition as part of a plan to get away from swinging on two oars for more than eight years. He is back to his core job within a fortnight, contesting the Henley Royal Regatta diamond sculls on the River Thames as a three-time former champion (2006, 2009 and 2010). He recently noted he was looking forward to returning to an event that lasted less than seven minutes.
While climbing Kilimanjaro is no comparison to the ascent of Mt Everest or K2, it can take a toll. There are no Cliffhanger moments, but altitude sickness is a danger. Travelling up 1500m-2000m in a day is a lot for a person who lives at sea level.