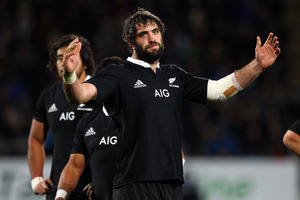 Patrick McKendry of APNZ and Gregor Paul from the Herald on Sunday answer three probing questions from last night's test between the All Blacks and France.
1. Rugby Herald thought we were primed for a "pretty special" All Black performance but the test rarely advanced beyond third gear. Why?
PM - Constant errors made this test an ordinary one to watch - it was't a patch on the Australia v British and Irish Lions clash in Brisbane later in the evening. The All Blacks coughed the ball up time and again _ often when there was little pressure on them.
Victor Vito, Kieran Read and Piri Weepu were all guilty of losing possession. It meant their team couldn't build momentum. Both Weepu and Dan Carter, starting together for the first time since the Scotland test last year, looked rusty. France were up for this game too, probably more than many expected. They definitely played their part, but overall the test was disappointing as a spectacle _ there was no final flourish like in the third test against Ireland last year.
The five changes to the All Blacks didn't help, but that shouldn't be an excuse.
GP - It's a curse of a thing, but Steve Hansen made it one of his key goals when he took the job to back big performances with big performances. He had noticed that too many times the All Blacks followed an emphatic performance with something insipid and lacking the following week. But it's a disease he hasn't been able to cure and that is a big reason they were flat in New Plymouth. This side struggles to back up after they have played well..
A few personnel changes didn't help them build any flow, but before anyone jumps in with any nonsense about the end of an era, hard times to come ...blah, blah, blah...how about acknowledging that France were good. They played well. Very well in patches and maybe it is time for New Zealanders to realise that there are, usually, two sides on the field in every test.
2. What, if anything would Hansen et al have got out of that performance.
PM - The confirmation that Julian Savea is a better wing than Rene Ranger, that Aaron Smith at halfback is crucial if quick ball is required, that Israel Dagg probably isn't far from his best, that Ben Smith is comfortable at this level (he was probably the back of the series), that Steve Luatua will very soon overtake Victor Vito as a back-up No6, that lock Luke Romano is one tough man. Luatua, Charles Piutau and Matt Todd got some very limited game time in their first test.
GP - Another test victory. A series win. That's important - never doubt the value of winning and the confidence that brings.. Competition for places at lock is now intense and the back three worked well in combination - as they have for the series. He'll also have got certainty a bout Aaron Smith despite the fact he didn't play. The little Highlanders is head and shoulders the best option - not necessarily the best halfback per se, but the best halfback for this All Black side.
3. It hasn't been a great series for ABs wearing numbers 6 and 7. Why have the loosies found it so hard to impose themselves?
PM - Sam Cane has had a good series in the No7 jersey. He has been busy and effective when stepping in for Richie McCaw. At no point has he been overawed, it's just that the French targeted the breakdown as the one area where they could trouble the All Blacks and they did it effectively. Slow the ball down and you will limit the All Blacks' attacking potential.
Cane showed out more in Auckland in Christchurch but wasn't bad in New Plymouth.
Victor Vito struggled to impose himself last night at No6. He didn't have the required impact with the ball or on defence _ Romano and Wyatt Crockett were more effective there. Liam Messam was better in the two previous tests, but I still feel the All Blacks are in a bit of a holding pattern until Luatua is ready.
GP - The problem is certainly acute at blindside where neither Liam Messam nor Victor Vito did much of an impression of Jerome Kaino. Like it or lump it boys, but Kaino set the standard and it is one by which those two will be judged. Vito carried hard but he doesn't drive his legs in contact. Messam's work rate was immense but the bigger French forwards stopped him dead in his tracks. Both of them weren't able to technically deal with the French at the breakdown - they weren't able to shift bodies.
Different at seven. Sam Cane was at least a seven out of 10 throughout the series. He tackled well, ran well and was in the right places. He was impressive - not Richie impressive - but delivered performances that were encouraging and valuable.
- APNZ