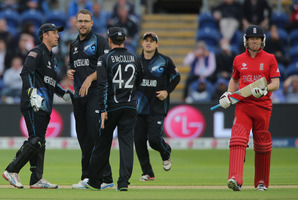 It was a mammoth task to get the former captain fit in England but what about his long-term prospects?
One moment was the most poignant of all in the Champions Trophy - Daniel Vettori shuffled to the bowling crease, favouring his damaged left Achilles tendon, for the eighth over against Sri Lanka.
Having last bowled internationally at the World T20 in September, he broke his break with Mahela Jayawardene lbw from his fourth ball. Jayawardene is nobody's bunny yet Vettori set him up with a ball that turned sharply away. The Sri Lankan played down a similar line next ball but it went straight on, cannoning into his pad. Vettori's appeal was something Sir Richard Hadlee would have been proud of.
The race to get Vettori fit after he'd missed the second test and ODIs against England saw him, against a cautious Australia, bowl 10 overs for 23. Captain George Bailey delivered on a respectful pre-match promise to play Vettori watchfully.
The way Vettori hobbled around the field during the Champions Trophy left little doubt he will spend more time in, rather than out of, pavilions in coming years. The team treated him like precious cargo. He was inundated with back pats to coax him through after a saline injection into his troublesome tendon during the England series. It was about short-term survival.
Long-term, you suspect Vettori will be unwilling to play a token geriatric role. He's competitive and nothing but the highest standards will suffice to reinforce a record which has turned him into a household name in the cricketing world. Hence his future remaining the key sub-plot during New Zealand's ambivalent England tour and the Champions Trophy and interest in the operation he quietly underwent this week to prolong his future.
The great unknown is whether it will work well enough for him to sustain his career for the 20 months until the 2015 World Cup. Vettori originally gave up the 50-over game after the 2011 World Cup to prolong his test career. That emphasis could now switch with five days seeming too arduous for a 34-year-old body.
Vettori's last test was against the West Indies in July. He was due to play in the second England test before pulling out on match eve. That was down to Vettori's lack of confidence in his body. His next opportunity will be away to Bangladesh in October. With three children, and Dad already away from home quite often, he might think twice.
The concern of long-term team-mates Brendon McCullum and Kyle Mills was palpable during the Champions Trophy. Mills found it difficult seeing his friend in such pain: "You only have to look at him. He's limping and is a bit ginger walking around the field. He's been doing it since his teenage years at this level and his body is tired. There's obviously a lot of discomfort, but just watching him bowl [against Sri Lanka] you can tell he's a class above anything else going around. I think he's crucial for our line-up.
McCullum talked cautiously about Vettori's future ahead of the Headingley test. He indicated - as diplomatically as he could about a friend - that an exit strategy needs consideration.
"It's probably something we need to discuss further. It's a rolling decision about what Dan needs to prioritise and how many overs he's got left. It'd be nice to think he can play every game in all three forms but that's not realistic. I certainly see a place for him in the team. It'd be silly to sweep away that experience; those runs and wickets.
"The concern was the workload he might have carried. We couldn't be certain some of his troubled areas wouldn't flare up."
The upshot is a shortlist of spin candidates needs to be developed. An 'A' tour to the sub-continent this year ahead of the Bangladesh series is a key starting point. The list includes Bruce Martin, Jeetan Patel, Todd Astle and Tarun Nethula but all have been tried and none save Martin have won long stays. One new hope is former national under-19 legspinner Ish Sodhi. He moved from Auckland to Northern Districts last summer and played all 10 first-class matches, collecting 20 wickets at 44.80. Backing the 20-year-old could pay off long term. Nathan McCullum and Kane Williamson provide sound cover in ODIs while Roneel Hira's pugnacious streak has looked promising at T20 level.
Regardless of solutions, it will be years before anyone fills the Vettori vacuum.