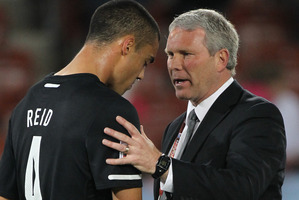 New Zealand Football are working on an ambitious plan to charter special planes during November's World Cup play-offs but, in a highly unusual scenario, their private jet may also transport the opposition.
Picture the scene: hours after facing each other in a play-off worth at least US$10 million ($12 million), combatants from the rival squads would sit in close proximity; uneasy stares across the aisle. It is being contemplated for budget reasons but could bring new meaning to in-flight turbulence.
Over seven days in November, the All Whites face home and away matches against the fourth-placed team from the North and Central American Confederation (Concacaf), scheduled for November 14 (away) and November 20 (home). On current form, the opponents are likely to be Honduras or Panama; Mexico is still a possibility. After six matches in the six-team home and away round-robin, the United States head the standings with 13 points followed by Costa Rica on 11. Mexico have eight points from one win and five draws, Honduras seven and Panama six. Jamaica have just two points.
Whoever they face, the New Zealand side will set a new record - the greatest distance travelled for a World Cup qualification play-off. They will clock up several thousand more kilometres than the previous record-holders, the Socceroos, did in their play-offs in South America (versus Argentina in 1993, and Uruguay in 2001 and 2005).
To minimise time in the air and at airports, and given that Central America is not a straightforward destination, NZF is looking at chartered flights for the journey back to New Zealand. After the first leg on November 14, the plan is for the chartered flight to take both teams to New Zealand. After the game in this country - most likely to be staged in Wellington - the same plane would fly the opposition back to their country. Both associations could thus share the significant cost.
Chartered flights don't come cheap; last year New Zealand commissioned a plane from Honiara to Brisbane (only a three-hour journey) which cost $40,000.
"Obviously we can't talk to specific associations yet [as the opponent is unknown] but we have already had discussions with the general secretary of Concacaf on this subject," NZF chief executive Grant McKavanagh told the Herald on Sunday. "These have been very positive. They are very open to the idea, so it is something we hope to progress."
He added that given the extreme distances, NZF would again seek Fifa assistance towards the travel costs, as they had done in 2009 for the play-offs with Bahrain.
From New Zealand, the most common hub for Central America is Los Angeles, though San Francisco, Miami and Houston are also possibilities. If the destination is Honduras, there is an added complication, as there are few direct flights; many go via El Salvador.
The main Honduras airport of Toncontin is also regularly rated as one of the world's most dangerous, due to surrounding mountainous terrain and its short runway. Until 2009, the landing strip was just over 1.8km, though it has recently been extended to 2km (around the same as Wellington airport; Auckland is listed as 3.64km).
Meanwhile, NZF is still hoping to arrange a dress rehearsal fixture in North or Central America followed by a game in New Zealand a few days later, allowing logistics of the arduous challenge in November to be tested and give players a taste of what to expect.