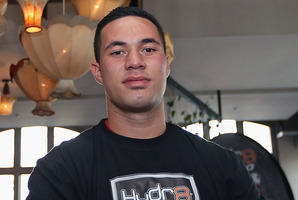 Rising heavyweight boxing star Joseph Parker has called for supporters to be kept further away from sports fields and courts to limit the danger of violence and abuse.
Parker, 21, signed up as a Herald on Sunday Sideline Champs ambassador this weekend, alongside the likes of All Black Richard Kahui, Silver Ferns captain Casey Kopua, Warrior Manu Vatuvei, World Cup football star Ivan Vicelich, and Breakers basketball skipper Mika Vukona.
Boxing has a reputation as a macho, testosterone-fuelled sport - but Parker said the worst behaviour he had seen was on the sideline of rugby and league matches at school or club level.
He recalled playing in a rugby game between Mangere East and Otahuhu, a few years ago, in which the whole team got into a fight with the opposition.
"Then there were family members jumping in and fighting, trying to protect their loved ones," he said.
"It turned into a big brawl. The referee stepped in to try and stop it, and he got injured."
Parker urged team sports fans to show the self-restraint demonstrated by boxing supporters - and suggested that better crowd control was also needed.
"They need to find a way to keep people further away from the field, to stop them jumping in."
David Higgins from Duco Events, which promoted Parker's bout against Francois Botha this month, said his company would continue to encourage sporting behaviour, inside and outside the ring.
"Duco is completely supportive of the Sideline Champs campaign," he said. "At the end of the day, sport should be about fun and entertainment. The competition should be between the athletes taking part. I think any spectator who boils over is exhibiting an anger problem or an ego out of control, and it spoils it for everyone.
"The funny thing is, the majority of boxers have excellent control of their anger and emotions.
"Rarely do you hear of a boxer punching someone over in a bar, or outside of the ring.
"Boxers will often take a lot of crap, say if they're out on a night out, and they'll just suck it up. Because if you lose your temper, you lose the match."
Echoing Parker, he said he had seen worse agro on the sideline of his school rugby league matches than he ever had around a boxing ring.