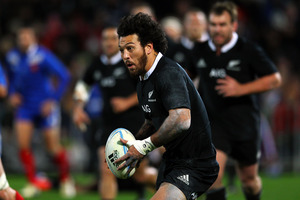 As Steve Hansen picks over the remains of this untidy All Blacks performance, he can at least comfort himself with the fact that he is more aware of several things about his players.
Chief among those is the reinforcement that adaptability is nice to have but sometimes specialists are required. Julian Savea, excellent on the left wing in Christchurch last weekend but not required last night, probably enhanced his reputation by not being involved in this stop-start and scrappy affair.
Rene Ranger, bulletproof against France in the first two tests when coming off the bench to wreak his mayhem on tired defenders, struggled to do the same from the opening whistle at Yarrow Stadium. It was his second start in six tests.
He tried, of that there is no doubt. With socks down near his vivid orange boots from the first minute, he was in the action early on, charging into fullback Brice Dulin and running on to a short ball from Dan Carter on the opposition's 22m line.
Being caught on his heels a little when chasing kicks - something Savea does extremely well - wasn't as positive.
Neither was the sight of the ball dropping over his head and into touch from a French clearance.
In the second half he was involved more with the ball but along with the crowd's anticipation he attracted many French defenders. He was replaced in the final minutes by Charles Piutau, on for his first test.
The nagging suspicion is that he is now a better centre than wing and he is probably better suited to an impact role. Ranger was excellent in Auckland and Christchurch on the wing because the ball went his way, he was on the field for only limited periods and was determined to make himself noticed. The man who is on his way to Montpellier at the end of the year was out to make an impact any way he could.
Centre is his position of choice, and also happens to be a position of relative weakness for the All Blacks. Conrad Smith's sabbatical leaves a big hole there but we were no closer last night to finding out who could fill his place.
Flanker Victor Vito was another who failed to take his opportunity and was replaced by debutant Steven Luatua. During the week Vito had put the onus on himself to find some steel to go with his athleticism, but it was his handling skills which were found wanting, a curse also affecting skipper Kieran Read.
Piri Weepu couldn't get things going and was replaced just after halftime, and outside him Dan Carter had an up and down return from his hand injury.
The positives? Luke Romano's tireless work in the second row and Ben Smith's continued excellence on the right wing. Smith, who scored the All Blacks' first try, just keeps getting better. The fact that he is a specialist fullback who could do a pretty good job at centre too highlights his importance to this side.
At the moment Smith is the exception to the specialist rule. On a cold night in Taranaki, that, and another precious test victory, will be of comfort to Hansen.
- APNZ