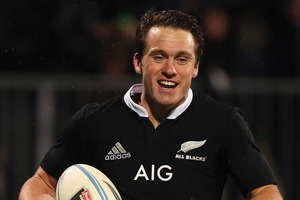 The dominant theme of the June series has been the Smiths - Aaron, Conrad and Ben - a trio whose value to the national game goes way beyond the respectively increasingly important roles they play for the All Blacks.
The Smiths represent something bigger. They are the antidote to the pandemic plague of power athletes sweeping the global game; they are champions of the genetic underclass.
For too long rugby, coaches from Inverness to Invercargill have seen raw power and size as a panacea to all shortcomings in skill and finesse. Why teach a man to run through a hole when he can more easily run over the top of a defender?
Why look for sharp instruments when blunt ones are seemingly everywhere, ever willing to haul their brawn into the thick of the battle and hope that muscle alone will get the job done.
How many youngsters have been lost to the game in the past two decades after surveying endless test football and never once seeing that rugby is a game for all shapes and sizes?
The biff, the bash, the bone-crunching impacts that are pro-actively sought - what a giant turn-off for those not necessarily blessed with the raw materials to play that way. What must those with natural instincts and abilities to avoid the collisions feel when they see the rewards available to those with a predilection for finding them?
That's the magic of the Smiths. They are inspirationally unassuming in character and frame. Even their name is extraordinarily bland, highlighting further that they are the boys from next door who went from barefoot, Saturday morning ragamuffins to All Blacks without enduring, at some stage, a turbo-charged puberty.
The Smiths bring hope to everyone, They are proof that the path to test rugby does indeed remain open to all.
More than that, they show that test rugby has not closed its mind entirely to the virtues of skill, evasion and tactical nous.
Ben Smith is currently the man of the moment - yet it's illustrative of how mindsets are conditioned to doubting those who aren't over-sized that even he struggles to understand his value.
The lament from the All Black coaches is that Smith doesn't know how good he is. Maybe that's because he knows at 1.86m and 90kg he's comparatively tiny in the company of, say, Lions wings George North at 1.93m and 112kg and Alex Cuthbert at 1.98m and 106kg.
Smith knows that while he can hold his own over the first 20 metres, there are men such as Bryan Habana and Digby Ioane who have better top-end speed.
But few if any wings in the world game can match him for timing, for his angles of running, distribution, work under the ball, footwork and general understanding.
His range of weaponry is vast, complex and flexible. Dry ball or wet; fast track or slow, Smith has the skills to be an influential factor.
Conrad Smith has been the major contributor of the brain component of one of the game's best midfield partnerships.
Considerably bigger now than when he made his test debut in 2004, Smith remains an oddity in that his excellence is built on anything but his physical presence.
Most of his adversaries have a focus on the macro - he's all about the micro, the subtle touches, the instincts.
Faced with behemoths every test, he tames them with his capacity to out-manoeuvre them; he plays the game with his head, while they charge around with a single thought and some not even that.
Aaron Smith has done more to restore faith in rugby's future than almost anyone. Something was seriously wrong when there was this insatiable appetite from the dawn of the professional age until last year to pick halfbacks who merged into the loose trio.
Jimmy Cowan was tall enough to be a credible lineout option and probably, as a consequence of that, some of the forwards were more credible passers than he.
Smith has rekindled an old school and welcome desire for halfbacks who can fit in a pint glass. Who cares if he can floor a charging lock or not, or whether he can crash over from close range? he's there to pass the ball and there hasn't been someone who can do that as well as he does for an age.
Little men everywhere have rejoiced - now they have classic proof that lack of size can be an asset rather than a liability.
Now that the series is over, raise a glass to the Smiths - and their artful work in turning the ordinary men into the extraordinary.