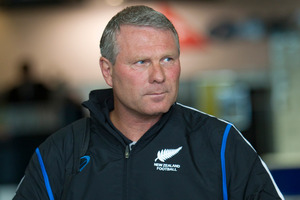 All Whites coach Ricki Herbert would prefer to tackle Honduras in November's crucial intercontinental playoff for a spot at next year's World Cup in Brazil.
He might get his wish, with Honduras fourth in the final stage of the Concacaf qualifiers - also known as the hexagonal or Hex - after six of the 10 rounds.
The All Whites, as winners of Oceania qualifying, are due to meet the fourth-placed North and Central American side in a home (November 19) and away (November 15) playoff.
It looks like it will be either Honduras or Panama, although Mexico are dangerously close to the equation, only one point ahead of Honduras.
New Zealand will want to avoid the US and Mexico, the traditional powerhouses of Concacaf football, and there is an expectation Mexico, who are ranked 17 in the world, will qualify directly even though they have a difficult run-in.
The US lead the Hex after six rounds with 13 points from Costa Rica (11), Mexico (8), Honduras (7), Panama (6) and Jamaica (2).
The All Whites won't know who they are playing until closer to the final round of Concacaf qualifiers on October 15 but Herbert wouldn't mind if it was Honduras.
"It was a bit like when the last one came down to Bahrain or Saudi Arabia," Herbert said. "I'm not sure it makes a lot of difference [between Honduras or Panama] because the rankings are not too dissimilar but I would prefer Honduras for the simple fact we know a bit more about them. We don't have that history with Panama."
The All Whites drew 1-1 with Honduras at North Harbour Stadium in 2010 in a post-World Cup match and met again in Dallas last year when Shane Smeltz scored the only goal of the game.
Like New Zealand, Honduras have played at two World Cups - 1982 and 2010 - which are the same ones the All Whites have played at.
Los Catrachos have lost all three away games in the Hex so far but are unbeaten at home and the city of San Pedro Sula will be an intimidating environment given it's often referred to as the murder capital of the world.
September's game between Honduras (ranked 62) and Panama (43) will carry extra significance and Herbert expects someone from the All Whites coaching staff to be at the game.
It's unlikely to be the coach with the match due to be played when the All Whites are likely to be competing in a four-team tournament in Saudi Arabia also involving the United Arab Emirates and Trinidad and Tobago.
Herbert is also hoping to play an Asian side in August as well as two rapid-fire games in October - one in Central America and one in New Zealand - that replicate what they will face in November.
The August game could involve a New Zealand A side instead of the All Whites if it's against a lower-ranked team, which would give Herbert a chance to try some different players and formations.

The Hex run-in
• USA (13 points): Costa Rica (A), Mexico (H), Jamaica (H), Panama (A).
• Costa Rica (11 pts): USA (H), Jamaica (A), Honduras (A), Mexico (H).
• Mexico (8 pts): Honduras (H), USA (A), Panama (H), Costa Rica (A).
• Honduras (7 pts): Mexico (A), Panama (H), Costa Rica (A), Jamaica (H).
• Panama (6 pts): Jamaica (H), Honduras (A), Mexico (A), USA (H).
• Jamaica (2 pts): Panama (A), Costa Rica (H), USA (A), Honduras (H).
- APNZ