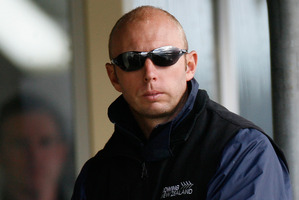 Making cabinets and mentoring rowers may seem strange bedfellows but for Rowing New Zealand's head sculling coach, they are symbiotic.
This season Calvin Ferguson joined women's head coach Dick Tonks and men's sweep oar coach Noel Donaldson as one of the troika at the top of the RNZ coaching tree after taking double scullers Nathan Cohen and Joseph Sullivan to gold and lightweight double scullers Peter Taylor and Storm Uru to bronze at the London Olympics. He also guided Mahe Drysdale to bronze at Beijing.
Ferguson is reserved and modest, much like his mentor Tonks, as he contemplates taking four boats - the men's double sculls, quadruple sculls, lightweight singles sculler Duncan Grant and temporary sculler Sullivan - through World Cups at Eton Dorney and Lucerne as well as the Henley Royal Regatta.
He says his days learning the cabinet-making trade often provide assistance because at a glance he can tell how level a boat is with the water.
"You can tell how smooth a boat's running by looking at how much the bow's bobbing up and down. It tells you how much you need to move the rigging.
"Rowing is an art. Sure, we have useful scientific tools, but Dick is an artist as well. I think all the good coaches are artists. We don't always get it right, and sometimes guys in my crews think I'm too fussy because I take my time to get boats perfect before they race. There is not a feather out of place."
To loosely test this theory, the Weekend Herald points to an intricate-looking wooden bar top bench in the team's bed-and-breakfast accommodation. Could Ferguson make that? "Yeah, not a problem," the coach replies unblinkingly.
Ferguson has already backed up such claims in critical circumstances. Two-time world champions Cohen and Sullivan finished last in the B final at Lucerne in the second-to-last World Cup before the Olympics. No one could work out what was wrong, so Ferguson randomly ran a spirit level over the face of the blades.
"We measured them and found the scoop on the bow side was more curved than on the stroke side which affected the stroke when it came to catching water.
"We also worked on techniques to make it right. I said to the guys: 'Let's trust each other and keep calm. It's been a difficult time but we've got to keep clear heads. Getting stressed or upset won't make it better."'
Now 42, Ferguson learned his trade as Rob Waddell's training partner in 1999 when they worked with Tonks ahead of the world championships at St Catharine's, Canada.
"It was quite competitive," Ferguson says.
Ferguson rowed for 20 years from school at Napier Boys and through to Wanganui, including three years in a national lightweight four with Tonks as coach. In 2004 a crew at Wanganui lost their coach, so he took charge and loved it.
The following year he decided he couldn't do both, so coaching took priority.
"I said to [current chairman of selectors Conrad Robertson] I want to give it a go. I coached junior and under-23 crews and it went from there. I lived in Wanganui, but moved to Cambridge in 2007 when Mahe asked me to coach him. Sculling was always what I liked doing."
Ferguson hasn't been afraid to offer advice. He offered Drysdale options for technical changes like moving his feet further forward, so he didn't do a double movement. Ferguson's theory is that weights are an important part of any rowing programme rather than Tonks' specific "miles make champions" mantra.
"Oversee but don't interfere is our coaching motto," Ferguson says. "So many different athletes in our group can drive off each other. We want to be the number one rowing nation in 2016, it's no secret."