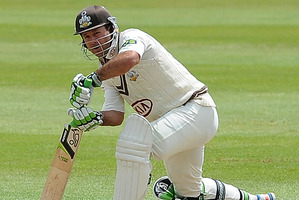 Ricky Ponting is finishing with cricket, announcing his retirement yesterday, subject to a handful of T20 commitments in England, the Caribbean and the Champions League.
He'll be done with the game which has dominated his life by October and, no question, the 38-year-old has made the right move at the right time, a point he acknowledged when bidding farewell.
Ponting topped the Sheffield Shield averages with 911 runs at 75.91, helping his beloved Tasmania win the shield last season. His test batting skills were waning - and remember, his name was mooted a few days ago as a possible saviour for Australia's Ashes campaign - but he was still good enough at the first-class level. He could have kept going but wisely is walking away on top.
Ponting came to mind with the news that Dan Vettori, four years younger, has gone under the knife to try to cure a chronic Achilles problem.
His last test was in July. He played a couple of Champions Trophy games - 6-1-16-1 against Sri Lanka, 10-1-23-0 against Australia - proof that he still has his bowling talent.
The ball with which he dismissed Mahela Jayawardene was a peach. But he fielded in discomfort, was visibly limping and needed saline injections for pain.
That's no way to play any sport. You wonder how many overs are left in the Vettori arm. He has spoken of his desire to rehabilitate before speculating on how much longer he will keep going.
How he must wish he'd had Ponting's dilemma; a simple issue of when to go, as opposed to having the cricketing nation pontificating on his health and how much more he has in him, and even if he should continue.
Vettori has shied away from talking of a return date. Depending on how the surgery went, there may not be one. So he's keeping his own counsel.
And to those who'd argue his selection in the Champions Trophy squad was a wasted spot, ask yourself who would have replaced him and made a significant difference? No one.
New Zealand missed the semifinals because they weren't good enough. The series win over England immediately beforehand proved a false dawn.
The best two teams made the final with India fancied against England, just, in tomorrow night's final at Edgbaston.
This is slated to be the final Champions Trophy. The desire to have one world tournament in each of the three versions of the game is rated paramount by the International Cricket Council.
They should think again. This event of 15 games - with every one counting - is over 17 days. Short, sharp and each day producing a relevant contest. There's a solid case for persisting with the Champions Trophy, but don't hold your breath.
Clearly the ICC must acknowledge the associate nations who get their chance every four years at the World Cup, next up in New Zealand and Australia in 2015.
At the 2007 tournament in the Caribbean, 51 games were played in 46 days, but it was a slog. Two years ago, it ran from February 19 to April 2. It becomes a tedious business. Speed, in a sense, is of the essence in these events.
Three games a day, with staggered starts - and given the time difference between the two hosts that shouldn't be a problem - is an obvious way to keep things moving, certainly quicker than the snail's pace of late.