The big guy from Rotorua's size, skill and attitude are significant sellers in this season's NBA draft.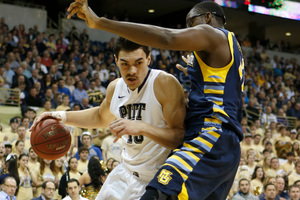 Hype can be misleading.
Just ask the last guy from New Zealand who was in line for the NBA draft.
If Kirk Penney had bought into the hoopla floating around Wisconsin in 2003, then nothing less than second overall behind LeBron James would have sufficed.
As it turned out, Penney wasn't drafted at all.
However, 2003 is marked down as one of history's strongest NBA drafts and Miami Heat are currently reaping the benefits.
Make no mistake, 10 years later, Rotorua-born Steven Adams is the real deal - and while he's not going top five, anything later than a first-round selection in Friday's NBA Draft will be a shock.
The 2013 lineup is unique because there is still uncertainty surrounding the top pick. University of Kentucky centre Nerlens Noel was the presumed choice for Cleveland until just this week.
The decision by the Cavaliers to now invite Noel and Ukrainian Alex Len for a visit this weekend suggests Len is still in the frame. The visit will mostly assess attitude, because both players are injured.
Regardless of who goes first, Adams is a genuine contender for whatever third team wants a "big man".
Those parameters put Adams in the position where he'll likely be selected somewhere between 10th and 20th overall, with both Philadelphia (11th) and Oklahoma City (12th) repeatedly touted as teams that could benefit from the addition of the University of Pittsburgh freshman.
With 18 seasons under the belt as play-by-play commentator for the 76ers, Marc Zumoff is among the best placed to analyse the needs of that organisation.
Philadelphia were burnt badly this season, after the just-acquired 2012 All-Star centre Andrew Bynum sat out the whole season with knee problems.
"Unless they try to re-sign [Bynam], I would say [a centre] would have to be one of the priorities - a big man. Not that most of the other 29 teams wouldn't like a big man as well, but it's clearly a need for the 'Sixers," says Zumoff.
In Oklahoma City, they're mindful that current starting centre Kendrick Perkins will be 30 when his contract expires in two years, and may not be the man for the future.
"The good thing about the Thunder is they've got two years to figure this out. [Adams'] transition game is outstanding, he runs the court very, very well. Very athletic for a guy that big, and that's exactly what the Thunder loves to do. They're a very athletic team. They run up and down as fast as they can, and people have trouble keeping up. If they had a running centre, they'd be ecstatic," says John Rohde, who covers basketball for the Oklahoman.
Adams' numbers from his freshman season with Pittsburgh are far from stellar, but for someone of his size and position, 57 per cent shooting from the field is a bright point.
It was during the pre-draft Combine workout in Chicago that Adams was really able to raise his stocks.
The Bleacher Report ranks Adams as the biggest winner at the camp, by surprising coaches and officials with his crisp offensive qualities, that were possibly stifled by the University of Pittsburgh's established scoring systems.
"He was knocking down jumpers left and right as if he'd been saving them for the right time. Adams was not only accurate, but his stroke was fluid. It looked natural," says the report.
In terms of pure size - as measured at the Combine - he's an impressive specimen.
Among the prospects he's consistently second or third in height (2.13m), weight (115kg), wingspan (2.25m), and hand size (24x28cm).
What happens on draft day is far from certain. While the top three or so picks become fairly obvious ahead of the day - the rest can be a crapshoot.
What if the clubs looking for a centre are more taken by Gonzaga's Kelly Olynyk, Indiana's Cody Zeller or Louisville's Gorgui Dieng?
Sure, it moves Adams down the list. But plenty of teams still need a centre, and a late first-round selection seems to be the worst-case scenario.
A draft-day trade would also upset the projected batting order, with this year's event already regarded as notoriously hard to predict.
For many teams, the biggest question will be whether to select the best available player, or fill a positional need.
As his first North American coach explains, Adams possesses basketball's golden combo - size, skill, and perhaps most importantly, attitude.
"The stuff that's going to make him an incredibly draftable commodity is that he's humongous, and for his size he's incredibly athletic," says Ryan Hurd, head coach at Notre Dame Preparatory School in northern Massachusetts.
It's a school that specialises in preparing young basketballers for the jump to the college level.
"Steve's ability to hit a 15 to 18-foot (5.5m) jump shot consistently is what's going to make him an exceptional pro.
"When you put all that together, and you add in that he's willing to learn, and he'll put in the work, why wouldn't a club take a chance."
And plenty of clubs are taking a look. Adams has been shipped around various US cities like a badly misdirected FedEx parcel, but allowing every club an up-close-and-personal examination of their potential new purchase is all part of the pre-draft process.
In the Western Conference, Adams has worked out with Dallas, Minnesota, Oklahoma City, Phoenix, Portland and Utah, while out east he's visited Atlanta, Boston, Chicago, Cleveland and Philadelphia.
Wherever he ends up, the Rotorua giant will be a long-term option in the NBA, and could well spend time in the Development League, but you can still expect a handful of appearances at the very top level next season.
Reuben Bradley is a New Zealand journalist, living and working in Vancouver.