Lions-Wallabies clash showcases two New Zealand coaches and ref.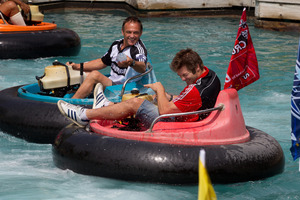 About four years ago, referee Chris Pollock got it. Something clicked. He knew his rulebook and had all the assurance to cope with the job.
However, he needed a few subtle tweaks to take his confidence to the next level. He did, and tonight's reward of controlling the opening clash between the Wallabies and the Lions in Brisbane is huge.
"I turned it around and am rapt," New Zealand's top ref said.
This is only Pollock's 12th test and at 41, he's taken his time to rise to the top. He explains that officials need games to become more proficient.
Others, like former five-eighths Glen Jackson, had a strong feeling for the sport because he had clocked up more than 10,000 playing hours.
Pollock was a phys ed teacher before he took up the whistle, and tonight will be part of an all-Kiwi headline cast as Robbie Deans' side squares off against Warren Gatland's tourists, with Vinny Munro in the TMO office.
Pollock altered his routine to fly to Brisbane early to meet his assistants Craig Joubert and Roman Poite, soak up the rugby fervour in the city and liaise with the opposing coaches.
"We will operate off the simple philosophy that if my assistants see something, then that's good enough for me," said Pollock. "We work on a simple process at scrums where we call a team colour that has infringed, then you penalise them and the assistant will tell you afterwards the reason so you get the flow right.
"Both teams want to play and that gives me the ability, if they set the platform, to just let them get on with it inside the rules I have given them."
The scrum will concentrate Pollock's attention and he has given his thoughts already to the coaches and will repeat them to the front rows before kickoff.
He watched the Lions game against the Waratahs, studied the computer packages referees use and was content with the Lions scrum and the way they had been ruled.
"The scrum is the most difficult area of the game to referee because it's so dynamic," said Pollock.
"There is so much going on there that you try and create some simple pictures you're looking for and if you can tick off decisions relating to those, you'll go with those decisions.
"If you can't, then you will err on the side of resetting. Both teams will put pressure on at the tackle ball because they will want that. It's easy if two teams want to play the same way and I hope to give them that access in return," said Pollock.
He spent six months out of the game last year because of trouble with his left hip. He had some bone shaved off his femur and holes drilled in it to try to stimulate cartilage growth and slow the beginnings of arthritis.
He hopes to still be going strong at the 2015 World Cup.
Players' interaction with referees is always a topic and was highlighted a few weeks back when Wayne Barnes sent Dylan Hartley off for dissent and out of the Lions tour.
Pollock shrugs when asked for his reaction if something similar happens tonight. Would he feign industrial deafness? He doesn't know, he hopes it doesn't occur.
He's used to halfbacks yapping at him and props muttering about injustices. If it gets too much, he'll ask James Horwill or Sam Warburton to speak to their men. A word on the run is another useful method.
If he knew players he would call them by name. Blues lock Ali Williams helped him with that decision.
"We go back a long way and I remember one Blues lineout when I said, 'Five, can you move off the line?' I said it a few times before he turned round and said, 'Polly, you know my name is Ali'. That made me decide.
"When I speak to the captains and props before a game I'll say if we can have a conversation like we're having now, then I'll be happy to listen to you but if we get a bit emotional then it'll be awkward and I'll switch off."
Before a test Pollock would ask what players wanted from him. Some had questions, others had no idea.
"It's then you wonder if a game is going to go down the emotional route," he said.
Today will be a long wait. Pollock will get out for a walk to sniff the breeze because he reckons he won't be too familiar to most.
His only superstition is to have a clean shave before he heads for Suncorp.
"For a ref the worst time is you get to the ground, you do the toss, do the two teams and generally there's about a 55-minute window before kickoff. You don't want to warm up just then so what do you do?"
Tomorrow, Pollock hopes he just makes the match lists in the newspapers. "I'm realistic, though. If I've had a poor game I expect to get everything I get, but if I've been okay, I expect not to be mentioned," he said.
"Criticism hurts because you don't go out to make mistakes but they occur.
"I try and minimise them."