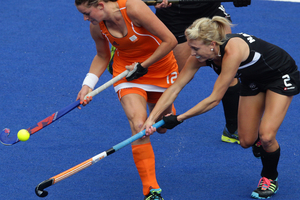 New Zealand lost their World League 3 semifinal 5-2 to Olympic champions and hosts the Netherlands in Rotterdam today.
The Dutch hit the ground running, were 3-0 up in the first 15 minutes and New Zealand were left playing catchup.
They did get goals to midfielder Petrea Webster and striker Katie Glynn but the Dutch advanced to the final comfortably, where they face world No 5 Germany early on Saturday (NZT).
Third-ranked New Zealand will play world No 8 Korea in the playoff for third and fourth spot. Plenty hinges on the result, with the top three teams at the tournament guaranteed a place at next year's World Cup in The Hague.
Should New Zealand lose, they would need to take route B to The Hague, by winning the Oceania Cup in Stratford in late October-early November.
The top four teams at Rotterdam all progress to the World League finals in Argentina in December.
The Netherlands, who beat New Zealand in a penalty shootout in the Olympic semifinal in London last year, got on top early today with a scrambled goal from Margot van Geffen, a deft deflection by Kim Lammers off a strong drive, and a brilliant 1-2 move, finished by Kelly Jonker after experienced defender Emily Naylor had played a loose ball into midfield.
Webster's shot pulled one back for the Black Sticks 10 minutes before halftime, however further goals from Lammers and Kitty van Male had the Dutch coasting, with Glynn's late deflection a consolation.
New Zealand had a better second half, after struggling to match the Dutch for much of the first half.
Things improved after halftime and New Zealand kept the Dutch defence honest.
They had chances to score when the contest was still alive, the worst miss coming from Sian Fremaux, who pushed the ball wide in front of an open goal after fine work by Charlotte Harrison down the right.
Goalkeeper Bianca Russell had an outstanding game for the Black Sticks, with a string of fine saves.
''The Dutch really show us how it's done today," Russell said.
''It was a really classy effort."
Germany came from 2-1 down with five minutes left to beat the Koreans 3-2 in the other semifinal.
The decisive goal came in the final minute from Eileen Hoffman.
In other games Japan beat India 4-0 and Belgium defeated Chile 4-2. Japan and Belgium will play off for places five and six, India and Chile to meet for spots seven and eight.