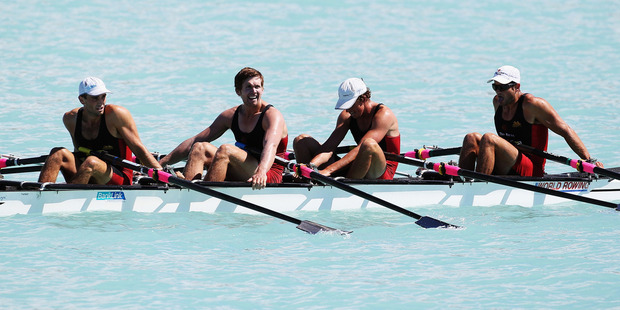 There's literally no lack of hunger in the men's quadruple sculls crew entrusted with securing a world crown New Zealand has never owned at Olympic or world championship level.
Among the eight male Olympic disciplines the quad ranks alongside the lightweight coxless four as events where New Zealanders have never stood atop a podium.
This year's contenders, in bow to stroke order, are Nathan Flannery, Fergus Fauvel and brothers Nathan and Hayden Cohen. In a selection rarity, the crew was unchanged from that which won a red coat for Southern RPC at the national championships. However, they have been shuffled by coach Calvin Ferguson on occasion to get the best combination.
One of the crew's first priorities is eating. Optimal crews, like the German quad that won London gold, appear to be in the mid-90kg range with Inspector Gadget-type levers.
Nathan Cohen and Joseph Sullivan proved size wasn't everything when they won the Olympic double sculls but, at 84kg, Flannery is chowing down.
He describes an average day at the buffet: "I have breakfast, then a second breakfast after our first row of the day, then a small snack before lunch. There's a pre-training meal in the afternoon then a recovery meal... then dinner and, being smaller than a few others, I have supper as well. I struggle to hold the weight whatever I eat with all the training.
"Rowing New Zealand's got this awesome new sponsor, Alliance Meat Group, who supply beasts for us. We just came away from having eye fillet for lunch. I feel bad just throwing it in a sandwich, but hey, it brightens the day."
There's no doubting the 20-year-old's commitment. He and Hayden Cohen won gold in Lithuania at the under-23 world championships racing the double.
"We were a bit like Nathan and Joseph," Flannery says. "You can still race as fast but you have to do it a different way through stroke rate. You can't rely on power. The same applies to our quad."
The new quad has already earned silver behind Britain at the year's first World Cup in Sydney, but that was acknowledged as a weaker field.
Fauvel is the other non-Cohen brother in the crew. The 26-year-old formed part of the men's eight which failed to qualify for the Olympics last year in Belgrade.
In parallels to Mahe Drysdale's university tourney beginnings, Fauvel only started rowing five years ago in his last year of a surveying degree at Otago. He has spent much of his career as a single sculler.
"Yep, that's always been me. Two oars," says Fauvel, who at around 92kg is acknowledged as the team "monster" by Flannery.
Fauvel attributes much of the crew's development to the centralised programme at Lake Karapiro.
"It's such a hub of activity in and around Cambridge, especially with cycling and triathlon moving in close by. It feels like a real athletic environment."
The quad races its heat tonight (New Zealand time) on the Eton Dorney course, site of last year's Olympics. New Zealand has nine crews competing at the regatta, including unbeaten men's pair Eric Murray and Hamish Bond.