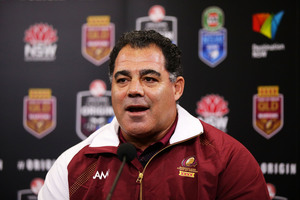 Despite admitting he broke team protocol when he was asked to leave a Brisbane hotel, Queensland coach Mal Meninga has blamed the media for creating yet another off-field league controversy.
Hours after declaring he was fed up with league's image being tarnished by alcohol-related off-field behaviour, Meninga earned the ire of staff at a Brisbane CBD hotel as the Maroons celebrated the 30th birthdays of skipper Cameron Smith and fullback Billy Slater.
Staff intervened and told Meninga to leave after he stepped behind a service area asking for a beer at around 1am on Wednesday.
Meninga fronted a news conference at the Queensland team's Sunshine Coast camp yesterday to acknowledge the incident - then took aim at the media, accusing them of blowing it out of proportion.
"When national TV uses it as a lead story this morning I find it quite ludicrous really," he said. "I'm a little bit disappointed with the way it's been managed by the media, to be honest.
"I know I've said some things in recent times about behaviour, about acting responsibly, but I thought I did that. It was very, very minor. Now all of a sudden it's national news. I think it's a bit silly. It's a bit of a storm in a teacup."
Meninga admitted he'd broken the team's "culture of trust" with his hotel gaffe but was gobsmacked the incident had been added to the code's long list of off-field scandals by the media.
Those scandals include the indecent assault charge against NSW winger Blake Ferguson and high-range drink-driving charge against NSW prop James Tamou, both of whom have been suspended.
"That's the whole issue, isn't it, about what happened to me and trying to lump it in with all the bad behaviour that is happening in the game," he said. "It's disappointing because I haven't been charged with anything.
"There was no confrontation - I didn't do anything wrong really. I wasn't intoxicated. I wasn't assisted from the bar. I left on my own accord ... I did what I thought was the right thing to do."
Meninga scoffed at suggestions the team should not have been at a backpackers bar in the early hours of the morning after recent events.
"Please. Who in this audience hasn't been out at one o'clock in the morning celebrating a milestone? I know we've got responsibilities. But it's about being treated as an adult.
"As long as you're accountable for your own actions. That's why I'm standing here today. I'm being accountable, I'm being honest. I did the wrong thing, I stepped behind the bar, that's it.
"I've been judged because there's a news article saying I've been kicked out of a bar. That's newsworthy, but some of the media haven't even given me the chance to say what actually happened on that particular night."
Meninga didn't believe the incident would be a distraction before next week's must-win Origin II clash in Brisbane and said it wouldn't spell the end of public team bonding nights.
"We've got this culture of trust and they do act responsibly," he said of his team. "They know the repercussions if you step over the line. I'm proud of the way they handle themselves."
- AAP