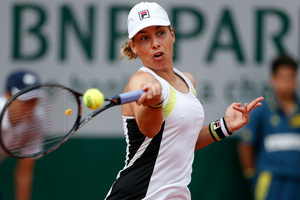 Q. As the 71st ranked woman in the world, how do you maintain the mental hardness to keep hitting balls accurately and consistently when most of us hope for the best through oafish whacks and tinpot second serves?
It's something I've always had, fortunately. Maybe hand-eye co-ordination is in the genes. I think it comes from being really determined as a kid.
Q. Your dad Mladen is a ship's captain, isn't he? He'd be useful with a tiller in his hand? You'd have to be pretty accurate when it comes to docking?
My Dad has always had fine judgment. He played a little bit of basketball when he was younger but I'm the first professional sportsperson in the family.
Q. Marina, you travel the world much of the year. Do you apply Einstein's theory of wardrobe to your packing, that is, minimising it so you don't waste time deciding what to wear at the expense of your tennis?
Yep, I definitely know what I'm packing after doing it so often since my late teens (Erakovic is now 25). My guitar is the first item selected. I've got this little electric number which is almost smaller than my racquet. After a tough day it's nice to do something non-tennis, even if it's just playing one song to switch off.
Q. New Zealand cricket identity John Wright once wrote he enjoyed the solace of playing his guitar in hotel rooms when he was in a manic environment coaching India. Does that strike a chord, so to speak?
Absolutely. When Cara (Black, Erakovic's doubles partner) and her husband come over we play a few songs. He's an Aussie who loves Bob Dylan and Neil Young. The last few days we've been cranking out the Eagles' Hotel California, Van Morrison's Brown Eyed Girl and Red Hot Chili Peppers' Under The Bridge. I can definitely relate to John's situation from the couple of times I've played in Delhi.
Q. Not only do you enjoy playing guitar but sometimes it sounds as if it would be your Mastermind topic. Anyone who's read the autobiography of Guns N' Roses guitarist Slash has to be an aficionado of the instrument's history, don't they?
Yeah, I love reading about that stuff. There were a few "wow" moments in Slash's book, that's for sure. Like when his heart stopped twice; he was practically a dead man. [Red Hot Chili Peppers frontman] Anthony Keidis' Scar Tissue was another great read, as was Keith Richards' Life, which I bought my dad for his birthday. I even have Rolling Stone magazine by my bed at the moment, come to think.
Q. So your dad's a big Stones fan?
Totally, but his favourite band is Fleetwood Mac. We're planning to see them as a family at Vector Arena in December.
Q. Will Grandma go to belt out a few bars of Seven Wonders or will she keep the home fires burning?
No, it'll probably be my Mum, Dad, me and my sister.
Q. You are from a tight family, renowned for knocking up Croatian culinary delights. What do you miss eating most when overseas?
A nice, juicy Kiwi steak. It's a struggle to get that anywhere. Also, Pic's peanut butter (made in Nelson). I love that stuff and take jars of it on the road. I even had a mate deliver some on her journey from Auckland to Birmingham to watch me play.
Q. Well, Marina, best wishes for success at Wimbledon (starting Monday) after earning your first WTA title at Memphis in February and third-round appearances at Roland Garros and Birmingham. Any special motivational build-up before you attack SW19?
Actually, I'm going to see The Killers, live at Wembley tomorrow. Can't wait.