Warne's picture tweet, the French are hungry and the cattledog is firmly kennelled.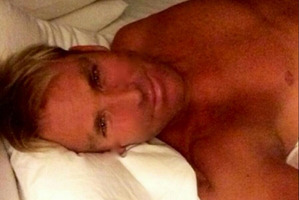 Morning glory
With this gratuitous, and ever-so-slightly-dodgy selfie, Shane Warne has reminded the touring Australians that there's really only one cricketer from the sunburned country who matters... and it's the one snuggled up to Hugh Grant's former squeeze. Morning, indeed. While the 192 "likes" might seem on the high side, it is worth remembering he has 1.2 million Twitter followers.
Zut alors
"We know what happens when you don't take France seriously," said towering All Blacks lock Luke Romano. "They come back and bite you on the bum." In this case, it was not a figure of speech.
Dog gone
League semi-legend Tommy Raudonikis is nothing if not honest. "I am shattered about this," the former New South Wales coach said about the return of the sinbin for punches and the like in State of Origin. During the 1997 Origin series Raudonikis had a call, "cattledog", which was the same as the 1974 Lions' "99".
"I love league, the game has given me everything, but it was made for working class people and we love a little biff. One-on-one fights in Origin is what people want but my cattledog is back in the kennel for good."
Herald wins
Magnificent effort by the Herald in their annual soccer fixture against Fairfax. Despite losing narrowly, the Herald won fans for their bravery, with at least three of their eight-man squad having reached the threshold of being declared legally blind.
Second is first loser
There are suggestions second place at the US Open should receive the "Phil Mickelson Medal" from now on after the American recorded his sixth runner-up finish at the tournament by finishing behind Justin Rose this week.
As if he didn't need reminding of missing out yet again, when Mickelson ended his round he asked someone where he needed to go and was directed to go straight ahead. He walked to the open door, expecting to be allowed in when an official closed it in his face. "Sorry," the man said. "That's where the champion is."
Room to move
Merion, the venue for the US Open, is famed for its layout, but shoe-horned into surburban Philadelphia, it offers little of the creature comforts players expect at majors. Neighbouring houses were transformed into player lounges, with unintentionally humorous spin-offs. ESPN columnist Rick Reilly mocked the venue, quoting former Masters winner Mike Weir: "I'm sitting there eating breakfast this morning with some guy's kid. He was sitting on the couch eating, oblivious to us even being there. Their dogs are running around. The guy's wife is coming in and out. We're watching SportsCenter and the kid changes over to the Golf Channel. I start to say, 'Hey wait a minute, kid...' and then I realised, oh, yeah, this is his house."
Joe Con-near
The newly appointed director of football at Newcastle has rewritten the book on how to lose friends and alienate people. The 66-year-old has responded to unhappy fans - he had a short, unsuccessful stint as manager in 2008-09 - by saying he has "more intelligence" than them. In the unfortunate interview, he also mispronounced the names of several key players - "Yohan Kebab" (Cabaye), "Hatem Ben Afra" (Ben Arfa), and "Shola Amemobi" (Ameobi) - and made claims about signing players that were factually incorrect."Some are talking out of their backsides, a load of tosh," he said of the fans. "I'm not accepting it, as simple as that. I have certainly got more intelligence than them, that's a fact."