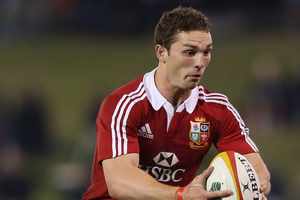 Within seconds of Lions manager Andy Irvine finishing his first test team announcement, journalists' fingers were hitting laptop keys to file that news.
Just as a Lions side has morphed into a massive touring extravaganza, so has the Fourth Estate, which circles and picks at any offerings delivered by the group.
When players were asked to play twice a week, the media would attend training and hover pitchside to take notes or recordings from a coach and later disseminate that information.
Now the demands are instant: live crosses on television, radio or internet sites.
The Lions delivery was in great contrast to the Wallaby team announcement which started to clatter into our inboxes early in the morning, confirming the leak going around Brisbane the previous day.
Hours later we rocked up to the Anglican Church Grammar School in East Brisbane, a wealthy private school with more than 100 years' tradition and facilities to envy.
Security checks done, about 140 of us sauntered into a room overseen by the appropriate sponsorship signage and waited for Irvine, coach Warren Gatland and captain Sam Warburton to talk through their team.
Many former Lions internationals like Brian Moore, Stuart Barnes, Will Greenwood and John Taylor who now work in the media were there, as were one-time coach Clive Woodward and manager Donal Lenihan, mixed in with some of the industry veterans and new-age faces.
The only eyebrow raises were that Alex Corbisiero had nudged Mako Vunipola on to a reserve list that was noticeable for the lack of a back-up openside flanker for Warburton.
Gatland, you sensed, would like to have swatted one of the Brits who trucked out some question about the eight Welshmen picked. He was still annoyed later after telling the room that nationality was irrelevant in selection.
He was happier to mention a meeting the Lions had with referee Chris Pollock who was keen for fast clean ball at the breakdowns. That would suit his side's pattern.
"We want to show Australia we can play rugby," Gatland added.
His team was match-hardened but fresh, the Wallabies had not played for some weeks and his side needed to lift their tempo and take them on physically.
There was time for one dig at Israel Folau's ascension and right wing selection. He was a quality athlete and a huge threat but had limited experience and since wing was one of the hardest places to defend, Folau would receive some attention.
The admission ticket would be worth it, Gatland suggested, just to see the duel between Folau and huge Lions wing George North.