The Herald puts three questions to Kamo ahead of the Lions-Wallabies series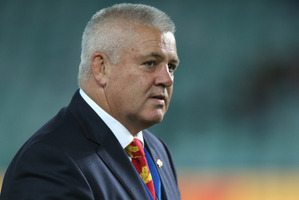 Warren Gatland. Photo / Getty Images
1. A simple question to start with: who wins the Lions series? More difficult question: why?
The result of the Lions series hinges on the outcome of tomorrow's first test in Brisbane. A week ago with the Lions rolling though Australia unbeaten and playing a fantastic brand of rugby, I would have picked them for that first test if not the series.
Now, with the hiccup on Tuesday night verses the Brumbies I have changed my view. Hitting a road-bump like that affects the confidence of the whole squad and is a distraction you don't need four days out from a test match.
That loss has stopped their momentum and would have put doubt into the players' and coaches' minds about the game plan. I sense it may even have caused a divide between the midweek boys and Gatland's test team. This divide, with the size of the squad and the Lions' history of team cliques and media spats, may be their downfall in the end.
So Australia to win the series because of the intensity and pressure they can maintain on the field and the fewer distractions they will have off it.
2. What does it say about the NZ rugby nursery that both teams are coached by one of ours?
Our intellectual property has always been a sought-after commodity in international rugby and a New Zealand-born coach is clearly the best vehicle to access this. A New Zealand coach who has been brought through our system brings with him a great work ethic, a skill base developed through a lifetime involvement in the game, an ability to create a culture that is demanding yet fun to be part of and a ruthless attitude to succeed.
This combination and our limited professional coaching opportunities is why unfortunately we have so many good coaches offshore. Our coaching production line I believe is very similar to our player one, with only the real cream of the crop rising to the top.
So if you make it here, you really can make it anywhere.
3. Does a loss make Deans vulnerable? Does a win make Gatland a contender for the ABs job in future?
The Robbie Deans question I can't answer. Sure a loss will bring out his doubters and the anti-Kiwi brigade across the ditch, but I don't know enough about the Australian Rugby Union's financial situation to speculate if they can even afford to replace him or not.
If their situation is good and the loss bad he might find himself more than vulnerable, he might find himself g-o-o-o-o-ne.
The Gatland question I can answer and for me is a definite "yes". A Lions series win coupled with his successes with Wales must make him a serious contender for the All Black job in the future.
Warren is only 49 and a former All Black. He has all the credentials the NZRU seek in their head coach. He has gained international experience to broaden his understanding of the game. He has a proven track record that mitigates some risk in his appointment and a intimate knowledge of our rugby systems.
However, to make himself a contender he must commit like the players to New Zealand rugby before stepping up to the big job.