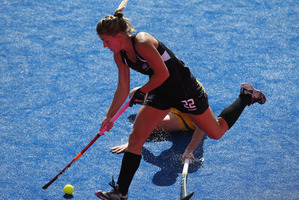 History is about to repeat, albeit in a different setting, for New Zealand when they play Olympic champions the Netherlands for a place in the World League hockey final in Rotterdam tomorrow morning.
The last time the women played the Dutch was in the Olympic semifinal in London last August. A thriller ended in tears for the Black Sticks as a 2-2 draw - and having had chances to win in regulation time - was lost 3-1 in a penalty shootout.
Recent history is against the world No3 side, but they're hoping a Dutch team with some new faces from their Olympic campaign might enhance their prospects.
If New Zealand beat the Netherlands, they will have made it into next June's World Cup, with the world No1 side as hosts.
"This is one of those big games that you train for, the Dutch at home will be a new experience for our younger players," New Zealand coach Mark Hager said.
New Zealand progressed to the last four with a 3-1 win over plucky Japan yesterday, all the goals coming from second half penalty corners. One of the star turns, midfielder Gemma Flynn, is confident New Zealand are tracking in the right direction.
"We're definitely making progress, improving with each game and now it's crunch time, the business end of the tournament," Flynn said.
She is sure New Zealand will be competitive, and the hurt felt at their Olympic semifinal will still be there for the survivors of that match.
"In this tournament they probably haven't been as strong as at the Olympics, they're trying a few new players out," Flynn said.
"Their style is pretty attacking," - the Dutch have scored 21 goals in their four games to New Zealand's 13 - "and they're very skilful so it's not going to be easy. However we're always up for the challenge."
The other semifinal is between world No5 Germany and eighth-ranked Korea. The New Zealand men's team were playing against Spain for a place in the semifinals early today.
Against the odds
* Black Sticks record against the Netherlands:
* Since 2010, the teams have met six times. The Netherlands have won five times - including the 3-1 penalty shootout after their Olympic semifinal in London last year was locked at 2-2 - with one drawn.
* In those games the Netherlands have scored 19 goals and conceded six. Four of those six goals were scored by striker Krystal Forgesson.
* If New Zealand win, they are sure of a place in next year's World Cup, to be played in The Hague. The Netherlands qualify automatically as hosts.