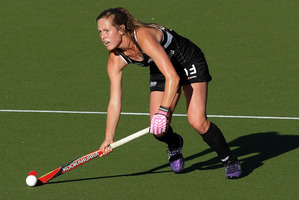 New Zealand had to fight hard to earn their place in the semifinals of the World League tournament in Rotterdam last night.
The Black Sticks, having conceded an own goal in the opening minute and trailed at halftime, won 3-1 to move into a semifinal against either hosts the Netherlands or India early on Friday (NZT).
World No 3 New Zealand were on the back foot early after Sam Charlton, at full stretch to block a cross from the right, deflected it into her own goal.
The Blacks Sticks dominated possession and territory for the rest of the first half but could not find the Japanese net.
Stout Japanese defence, combined with a failure to grab their opportunities cost New Zealand in that period.
The equaliser arrived four minutes after the restart, the first of three goals which came from penalty corners, of which New Zealand had eight to Japan's four.
When Kayla Sharland's drive was blocked, experienced attacker Krystal Forgesson reacted smartly and kept her head, turning to hit a firm reverse stick shot into the goal.
Japan had more of the territory in the second spell and had New Zealand's defence stretched several times.
An Anikawa Roberts fluffed pass out of defence was almost disastrous, while it took clever scrambling by Emily Naylor and Anita Punt to avert another gilt-edged Japanese chance.
New Zealand went ahead through the indefatigable Punt, who drove a penalty corner high over keeper Ryoko Oie 17 minutes from the end.
The win was sealed four minutes from the end by striker Charlotte Ferguson's fourth goal of the tournament.
She was positioned to force a loose ball into the net after Punt's penalty corner strike hit the crossbar and Forgesson's followup drive was blocked.
New Zealand had 18 shots on goal to Japan's seven.
Punt and Gemma Flynn were outstanding contributors pressing forward for New Zealand, while goalkeeper Bianca Russell made several crucial saves in the second spell, including one full length stop low to her right from Shihori Oikawa.
''We knew it was going to be hard," Punt said. ''We knew we had to keep fighting and eventually the goals would come.
''There's a lot we can work on. We were bit jittery and we didn't play our game so we still have a lot to learn. But we did really well so we're happy with that."