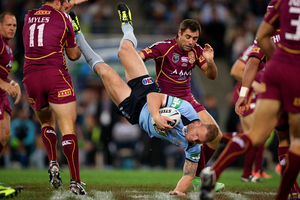 Most who inhabit Brisbane and its environs already take it as fact.
It is the epicentre of Australian culture and sport, if not in that order. When winter codes come into the conversation, it is league first and the rest in the shade.
Rugby legends in every sense such as John Eales, Tim Horan and modern- day gladiator Will Genia might call Brizzy home but the real deals are men like Wally Lewis, Mal Meninga, Billy Slater and Greg Inglis.
The latter duo are among those charged with reclaiming the state's league cred next Wednesday as NSW cope with the reverberations of other more sinister allegations.
First up at Suncorp Stadium, though, are the Lions and while there is bunting up around town, there is yet to be the thunderous swell of patriotism which will accompany their arrival late today after last night's midweek tour clash with the Brumbies.
The usual reliable sporting barometer, the Queensland cabbie, was baffled by the whole business.
"Yeah mate the big bash is a week away," he declared before dismissing my attempt to insert another major sports date on the calendar.
Repeating the assertion still left him looking about as blank as Blake Ferguson in the Waverly Police Station.
The Courier Mail newspaper had lashings of that story and other league yarns in the back section with a meek side order of Wallabies rugby featuring league convert Israel Folau.
Even the front page was garnished with a pictorial pointer to the Socceroos World Cup qualifying match last night against Iran.
Suncorp, though, is sold out and was in a matter of minutes for the Wallabies' first test with the Lions.
The ground was used on Monday by the Broncos in the NRL when the commentators pointed out how soft the surface was in one part of the ground. That piece of intelligence will not have escaped the Lions, who played in wet conditions there when they beat the Reds 10 days ago.
There is massive interest about the Lions' test side, with former coach Clive Woodward suggesting Jonathan Davies' stirring last performance should place him in midfield alongside skipper Brian O'Driscoll.
He picks a Welsh-heavy backline blended with Irishmen Brian O'Driscoll and five-eighths Jonny Sexton and an assortment of English, Irish and Welsh players in the pack. He adds eight other reserves with his last pick, a lonely Scot Stuart Hogg.
He and whoever takes to Suncorp this Saturday will not want for backing, though, with hordes of supporters going to the match and many others invading any venues in the city with plenty of fluid and widescreen televisions.
All the test promotion needs now is "Buddha" Handy to parachute in before kickoff with a loudhailer and his famous catchcry: "Go you good thing you."