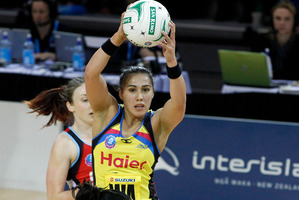 Central Pulse wing attack Liana Leota has a huge decision to make by the end of the month.
The dynamic 28-year-old needs to decide whether she will make herself available for Silver Ferns duty this year until the 2014 Commonwealth Games in Scotland, which would also bring her back to the Pulse next season.
After taking last year away from the ANZ Championship to give birth to her son Torres, Leota returned to New Zealand this season to reunite with Pulse mentor Robyn Broughton, who used to coach her at the Southern Steel.
Leota's decision centres on her family, who are based in England as her rugby-playing husband, Johnny Leota, still has another year to run on his deal with the Sale Sharks and is likely to look for an extension.
Leota, the 2010 ANZ Championship MVP, has been in discussions with Silver Ferns coach Waimarama Taumaunu, but won't make a final call until she has had the chance to speak with her husband, who is in South Africa with the Samoan national team.
He is due back in New Zealand at the end of the month and Leota has to decide whether she can face time away from her children, Brooklyn, 10, and Torres, 1.
"I'd still love to play in the black dress. That's a huge privilege and honour to be a part of," Leota said.
"But at the end of the day my [children are] not going to stay 1 and 10 for the next year while I'm travelling around the world. So it's still hard at the moment, I haven't completely made the decision."
Another factor is what Broughton will do next year as there is the unlikely possibility Leota may skip playing for the Ferns but will return to Wellington next year to join the Pulse, but only if Broughton re-signs.
"If she's not here then I don't think I'd stay. I'd probably go back to England and start my life all over again, but if she does then that's another story."
Taumaunu said she remained hopeful Leota would make herself available for the Ferns.
"She's a great girl and a great player so we'll just keep talking and I'm sure we'll come up with something that suits both of us," Taumaunu said.
"She was and would like to be a very proud Silver Fern so beyond the pride of playing for New Zealand and being in the black dress, which is a big pull really, there's no silver bullets, there's just trying to find something that works for both of us."
Another factor is that wing attack is an area of weakness for the Ferns, although Camilla Lees did impress in the role last season.
New Zealand don't begin their international programme until September, when they meet Australia in two tests on home soil before they head across the Ditch for three fixtures the following month.
They then host Malawi in a three-test series in October before the Fast5 World Series takes place in Auckland in November.
Meanwhile, despite acknowledging she could still foot it at international level, Pulse goal attack Donna Wilkins won't make a shock return to the Silver Ferns this year.
The 35-year-old has been in sensational form for the Pulse but said with three children and a husband she couldn't dedicate enough time.
"I've got a family that need me and that's my top priority."
- APNZ