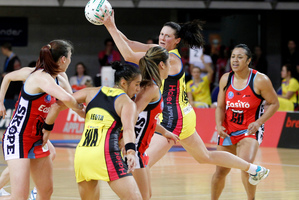 For all their good work, the Central Pulse still look destined to miss this season's ANZ Championship playoffs.
They look like they will come up one or two wins short and could have picked them up in any one of about four games during the year.
But losses to the Adelaide Thunderbirds, Queensland Firebirds, Northern Mystics and th18-06-2013 21:30:00e Waikato-Bay of Plenty Magic will prove costly in the wash up of the campaign.
Their goal differential wasn't flash either but dropping four games in which they led at some stage will leave a feeling of unfinished business for the side.
The Pulse breezed past the Canterbury Tactix 73-59 in Porirua tonight, which took them within two points of the top four with one round left.
But the fourth-placed Magic have a gimme next week against the Mystics so even if the Pulse do beat the Southern Steel in their final outing on Sunday they will likely come up just short.
Tonight's win marked the first time in franchise history the Pulse had won four games on the trot and it was done with relative ease.
The tone was set early on as the Pulse blitzed the Tactix 22-12 in the opening 15 minutes on the back of a 9-2 run towards the end of the stanza in a quarter that looked like an organised training run at times.
Seldom-used goal shoot Paula Griffin was a shock inclusion to start the game for the Pulse ahead of the reliable Caitlin Thwaites but despite two turnovers, Griffin shot 13 from 14 during the first period and looked calm enough.
In the second quarter, the Pulse maintained their advantage as the crowd lost interest in a game that lacked any edge.
To put it bluntly, the Tactix are a rabble. They've rarely fielded a consistent line-up this year and while they're stocked with young players who may well develop, they've battled to be competitive in 2013 and have copped some heavy losses.
As the game meandered on during the second half, the Tactix took the third quarter 20-16, but it mattered little as the Pulse consolidated their advantage during the final period.
The final score of 73 was the Pulse's highest in a game and was more an indication of the struggles of the Tactix than a glittering performance from the home side.
Central Pulse 73 (Paula Griffin 50/57, Donna Wilkins 23/26)
Canterbury Tactix 59 (Jo Harten 28/34, Julianna Naoupu 19/22, Sophia Fenwick 12/16) 1Q: 22-12, HT: 41-26, 3Q: 57-46.
- APNZ